Things To Do In New York In July
July is among the hotter months in NYC meaning that walking through the large concrete jungle can become very hot and sticky. A great alternative is to use of NYC's many bike paths along the East or Hudson Rivers where you will always be greeted by a small breeze. However, NYC in July is absolutely beautiful and is a great time to see the city alive and in its full glory. Check out our list of favorite concerts, events and other things to do in NYC in July.
Contents
Things to do in New York City in July are easy to find. There is always a lot to do in the city especially if the weather is good and summer is in full swing. There is no lack of awesome activities, events, and festivals. Below is a list of our favorite things to do in NYC in July, we are sure that more than one of them will suit your fancy. 
The 12 Best Things To Do in New York City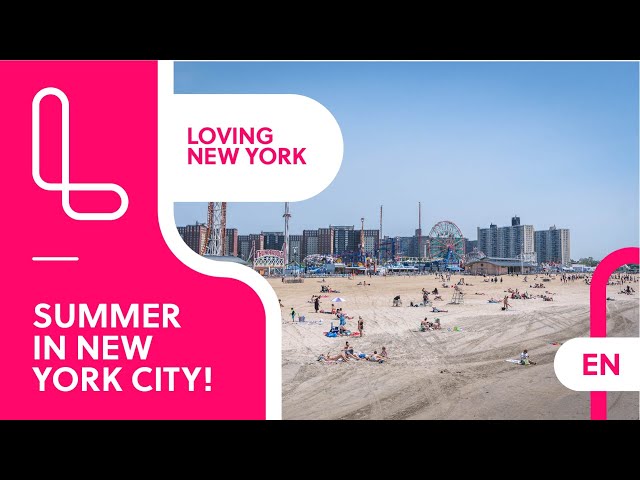 The Weather in New York in July
1. July: MoMA PS1 Warm Up
The little brother of the Museum of Modern Art, the MoMA PS1, is more unconventional and progressive. Founded in 1971 by Alanna Heiss as a location for alternative art exhibitions, MoMA PS1 is used to exhibit art that Alenna felt had no place in New York's traditional museums. For many years, these art exhibitions took place in various locations in Manhattan. In 1976 she found an old school in Long Island City, which was perfect for her museum.
In the summer months in New York, there is always a warm-up party in the garden of the museum on Saturdays. The MoMA PS1 Warm Up Parties are very popular with partygoers. This is where the best DJs hang out and you should definitely go for lunch to get in.
2. The 4th Of July in New York City
4th of July is one of the most important holidays in the USA and is a big deal here in New York City. Independence Day is the celebration of the United States as a free and independent nation. This day commemorates the signing of the Declaration of Independence on July 4, 1776.
The highlight of the day is the fireworks display at Macy's Flagship store. A total of nearly 40,000 fireworks are launched into the sky for the crowds to enjoy. The display is about 25 minutes long and is by far the most impressive fireworks display in NYC (even more so than the New Year's Eve fireworks in Times Square). For the first time since 1995, the Brooklyn Bridge will be an essential part of the show. The show is also in sync with a jazz ensemble. July fourth is a great day to be in NYC due to not only the patriotic vibe but the many activities and events that take place on this day.
A great way to spend the 4th of July in New York is by taking a fireworks cruise! You'll have the most fascinating views of the firework while cruising the East River, maybe even with dinner. As there are too many cruises to choose from, we've listed our absolute favorite ones for you
3. Nathan's Famous 4th of July Hot Dog Eating Contest on Coney Island
A special highlight on Coney Island New York is the annual hot dog eating contest at Nathan's Famous. Since 1972, people meet each other on the Fourth of July to find out who can eat the most hotdogs in ten minutes.
4. Recharge and Soak up the Sun in Central Park
Especially in the summer months,  Central Park is NYC's beautiful backyard. You will find many people using the green space at all times, playing sports, having a stroll, or just soaking up the sun. It is great for the hot and sticky days in July, as you will always find some shade to rest a little. Many New Yorkers use the green field to lounge, relax and escape the big-city bustle for a while.
Check out our article about Central Park, to find out where to go for the most beautiful places to relax and enjoy the tranquility.
5. July-August: Lincoln Center Festival
The Lincoln Center Festival is one of the most celebrated and popular festivals of the year. The extraordinary festival will show works and performances by the most renowned artists from all over the world within the three weeks where it takes place. This summer event which was first held in 1967, covers areas such as theater, ballet, dance, and opera. Tickets can be bought here.
6. July 19-20: "Pinknic" on Randall's Island
One of the largest picnics in NYC happened on Governors Island last year, the Pinknic. This year, it will be held on 19th and 20th of July on Randall's Island. With lots of pink and a lot of rosé wine, this is going to be an event you don't want to miss out on. There will be plenty of things to do during the two days where it will take place, live music and incredible views of Manhattan are only two of the features that make this event special. Tickets must be bought in advance since it is a popular event in New York in July. More information, as well as tickets, can be found here.
7. July 11-12 (Tentative): Manhattanhenge 2019 
Manhattanhenge is a fascinating and beautiful event that occurs only twice a year. The sunset falls in a straight line through the skyscrapers of Manhattan's East-West streets. There are a few locations where Manhattanhenge comes to full fruition, including 42nd Street-Bryant Park. The weather needs to cooperate on this day as well. You will need clear to very minimal clouds in the sky to be lucky enough to catch the event and experience it to its full potential.
8. July 13: Fashion on the Hudson
Attention all fashionistas! Have you always wanted to go to a real fashion show? In the fashion metropolis, this dream can come true. In the middle of July, there is the fashion of the "independents".
Tickets for the fashion show are available here.
9. Spend a day at the Beach and Boardwalk
July in New York City can get very hot and humid. The lack of a breeze between the skyscrapers in Manhattan does not help either. So what can you do to combat the heat during the summer in NYC? We recommend hitting the beaches. Brighton Beach on Coney Island in Brooklyn is a great way to spend the afternoon if you are looking for a break from the hustle and bustle of the city. The beach section is very popular especially on weekends and attracts countless visitors with its theme parks and golden sand. So come by to relax and enjoy the sun.
10. Monday Evenings: Bryant Park Film Festival
One of the best things to happen during the summer months is the Bryant Park Film Festival. Once a week Bryant Park is turned into an open-air cinema for everyone to enjoy free of charge. Behind the Public Library, the green grass is suddenly filled with blankets and people enjoying the warm summer evenings and watching one of the many movies that are put on during the time. The atmosphere in the park is always second to none – if you are looking for a way to spend an evening in July in NYC, this is an event not to be missed!
If you want to secure a spot, make sure to get there by 5 PM. The movie usually starts around 8 PM when it starts to get dark, however, due to the restricted green space and places to sit the lawn is usually filled with people at this point. Starting mid-May you can find out what movies will be shown during the festival here.
11. From May to August: Shakespeare in the Park
Every Tuesday through Sunday you can watch two of the world's most famous plays in Central Park. In recent years, some stars have made it to this stage. Celebrities that have participated are Meryl Streep, Kevin Kline, Al Pacino, Blythe Danner, Philip Seymour Hoffman, George C. Scott and Denzel Washington.
12. Panorama Music Festival on Randall's Island Park (Cancelled)
One of the best festivals in New York in July is the Panorama Music Festival. This music festival is of the same organization that arranges the famous Coachella Festival event in California, so you know this one will be just as good. For music and festival lovers, the Panorama Music Festival is a must. This years' lineup is also nothing short of amazing and diverse, with acts like Cardi B, Migos, and Gucci Mane, to Nora En Pure. Tickets can be bought on the website.
13. July 23: National Hot Dog Day
If you're really into hot dogs, then this day is for you. Whether at one of the many hot dog stalls on the city streets, or in Coney Island at Nathan's Famous, Make sure to celebrate National Hot Dog Day with a hot dog in NYC.
14. Staten Island South Beach
If you're on the Staten Island Ferry to see the Statue of Liberty, spend a little while on it. Get off at Staten Island and visit the beautiful South Beach. From May to September there are regular events and fireworks, which makes the beach on Staten Island a true insider. More information about the beach on Staten Island can be found here.
15. Visit Governors Island
Every year Governors Island hosts many unique events. We have put together the most popular for you in a separate article.
16. July 9-August 20: Catch some Coney Island Flicks on the Beach
During the summer, a visit to Coney Island is well worth it. Check it out from July 9 until mid-August and watch one of the four films on the beach. They will be shown in the open air during this time. Let's start with the hit movie "The Greatest Showman" – you can read the complete plan of all films here.
17. July 24: National Tequila Day
Enjoy one of the best tequila in one of the city's many Mexican restaurants. Our absolute favorite Mexican in Lower Manhattan is still El Vez. Choose from one of the many tequilas from the menu. There are delicious guacamole, burritos, and tacos. Find out more about the best Mexican food in the city here.
18. The Summer Stage Festival
At this event, you can visit over 100 events & shows for free in 16 parks across New York. It is one of the most popular events in New York in July and a huge attraction for New Yorkers. If you're in the area during the summer, be sure to check this out.
19. See One of NYC's MLB Teams Play!
Sports usually die down during the summer months. If you're a huge fan of baseball, however, New York City has two MLB teams. They are the infamous New York Yankees in the Bronx and the New York Mets in Queens. You can purchase tickets below.
Click here for Yankees Tickets
20. July 13: New York E-Prix: FIA Formula E
Sabrina was there herself last year and was thrilled. The race cars are fully electronically operated and look like the genuine Formula 1 car. Just without great soundscape. The event takes place in Red Hook and is one of the summer highlights in New York. Click here for the tickets.
21. Celebrate Bastille Day
On July 14, New York celebrates French Independence Day. Throughout the city, many events take place which revolves around the theme of France. Most events are free and many are family-friendly as well. Make sure to enjoy French cuisine, (The Little Prince in SoHo), live music and many street parties spread all over the city.
22. Concerts at MoMA's Sculpture Garden
Every Sunday in New York in July, the famous Museum of Modern Art hosts free concerts in the museum's beautiful Sculpture Garden. The event series is called "Summergarden" and is very popular, so it comes in any case on time. It starts at 20:00 o'clock, is opened however already at 19:00 o'clock. The museum is closed during this time.
23. Take a Dinner cruise
We have already tested many Dinner Cruises in New York for you. One of the best ones that we liked is the Bateaux Dinner Cruise. With a glass roof, the ship heads for the Brooklyn Bridge. Especially in good weather, in the summer month of July, the wine or Prosecco can be enjoyed on the deck of the boat. It makes the experience even better. Enjoy the sunset and have an unforgettable time. More unique dinner cruises in NYC can be found in this overview.
24. Visit one of the many rooftop bars in New York
Finally, the days are getting longer and the evenings warmer again. It's a perfect time to visit one of New York City's grandiose rooftop bars. New York has countless rewarding rooftop bars. The best we have is listed here.
25. July 23: Restaurant Week
Restaurant Week in New York is very popular among locals. Why? This week you can visit the best restaurants in the city and eat for a fixed price that is well below the regular prices of the restaurants. We have written a detailed article about Restaurant Week for you. Here you will find detailed information.
More Top Things to do in NYC
| | | | | | | | |
| --- | --- | --- | --- | --- | --- | --- | --- |
| | | | | | | | |
| | | | | | | | |
| Save 50% on all attraction tickets with this discount pass for NYC! | Our favorite dinner cruise, perfectly suited for warm summer evenings! | Seeing the marvelous waterfall in just one day - it's possible and also worth it! | One of the most popular tours in New York during which you discover many locations from the TV series. | Watching the fireworks from a cruise is an unforgettable experience. | The easy way to get from the airport to your accommodation. | New York's most iconic skyscraper. The views never get old! | Guided 1-day trip from New York to Boston, including the famous Freedom Trail |
| | | | | | | | |
About the author
Selwyn Tungol
Being a photographer and creative in general, New York City, I think is the perfect place to be. I moved to NYC from Boston in 2013 and never looked back. Loving New York has given me the opportunity to do what I love and share those images with you all.
Did you like this article?