The High Line Park in New York City
High Line Park in the heart of the Meatpacking District
The High Line is an elevated freight rail line that has been repurposed as a public green space that opened in 2009. The park runs down Manhattans Westside from Gansevoort Street in the Meatpacking District to West 34th Street, between 10th and 12th Avenues.
Contents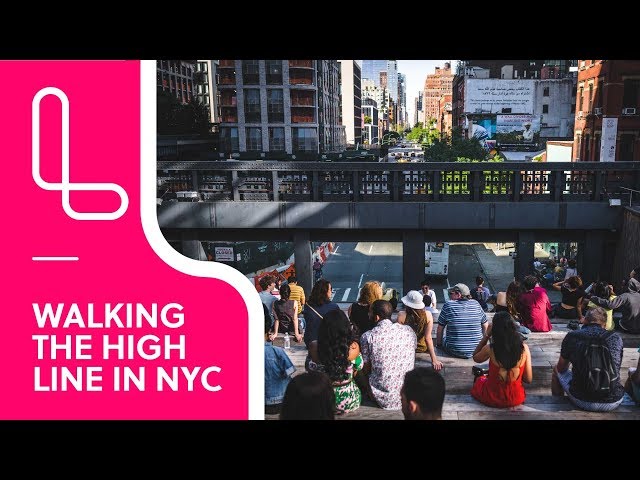 History of the High Line
As part of the West Side Improvement Project, the High Line opens to trains in 1934. It is designed to go through the center of blocks, rather than over the avenue, to carry goods to and from Manhattan's largest industrial district.
The line was closed after the rise of the interstate trucking industry, and the last train ran on the High Line in 1980 with three carloads of frozen turkeys. After a group of property owners lobbied for its destruction, Peter Obletz, who was a Chelsea resident, activist, and railroad enthusiast, challenged their efforts in court due to its historic value. Friends of the High Line was then founded by Joshua David and Robert Hammond to promote their idea of its use as open space. Today the High Line has become one of the most famous tourist attractions in the city.
When we first came to the Meatpacking District (in the '90s) – the area was rough and not as fancy as it is today. Today it is a very chic location, which offers a good nightlife and excellent restaurants.
High Line Park Entrances:
Access to the High Line is possible via any of the access points listed below:
Gansevoort Street 14th Street (elevator access)
16th Street (elevator access)
18th Street
20th Street
23rd Street (elevator access)
26th Street
28th Street
29th Street (elevator access)
30th Street
34th Street (elevator access)
The High Line is wheelchair accessible.
Guided Tours through the High Line Park
Guided tours through the High Line have become popular over the years, due to the unknown secrets & history locals can tell tourists about the High Line. This is our list of the best tours:
High Line and Chelsea Walking Tour
You start at the High Line in Chelsea and walk all the way to Meatpacking District with a tour guide. Duration: 2 hours.
You can purchase tickets here in advance.
This New York walking tour of High Line Park will inform and excite you as you take in the rich history of the neighborhood dating back to 1847. You will learn about New York's urban cowboys, walk through the historic Meatpacking District and Chelsea Market, and even see where the Oreo Cookie was invented. Duration: 2 hours. You can purchase tickets online in advance.
Greenwich Village Food Tour and High Line Park
The High Line Park and Greenwich Village are undoubtedly two of New York City's greatest attractions. Rather than take them on alone, get an expert to give you an insider's view of these amazing sites. This 3.5-hour tour starts with the High Line, an elevated railway line that has been turned into a park. It then moves on to explore the food scene in historic Greenwich Village, a neighborhood once filled with bohemian artists and now the haunt of celebrities and models. Duration: 3,5 hours. You can purchase tickets online in advance.
About the author
Sabrina
Calling New York City home is still pretty surreal. After moving here 5 years ago, I still see it as my dream life. Ever since I've been exploring this amazing city for Loving New York I've grown to love it even more. I love hooking all of you up with the inside scoop, top attractions, events and everything in between. I'm your go-to person for the hidden gems, best restaurants and the absolute best things to do in the city that never sleeps.
Did you like this article?