Our Favorite New York Beaches for Summer
These are our Top 10 Beaches in NYC
·
Summer in New York is a really great time to visit the city. There's a lot of things to do here and the activities are endless. The summer, in general, should be spent outdoors. You can always walk around the many parks in NYC or even just ride around in a bike. However, there are days where you can really feel the sun beaming down on you, and the first thing you want to do is to jump in the water. When you think of New York City, you think of the tall skyscrapers, the bridges and the many other attractions that the city provides. But, not a lot of people really think about the New York beaches that are around the area.
This article will provide you some information on the best beaches in NYC and hopefully, you'll have a chance to enjoy one of them.
The 12 Best Things To Do in New York City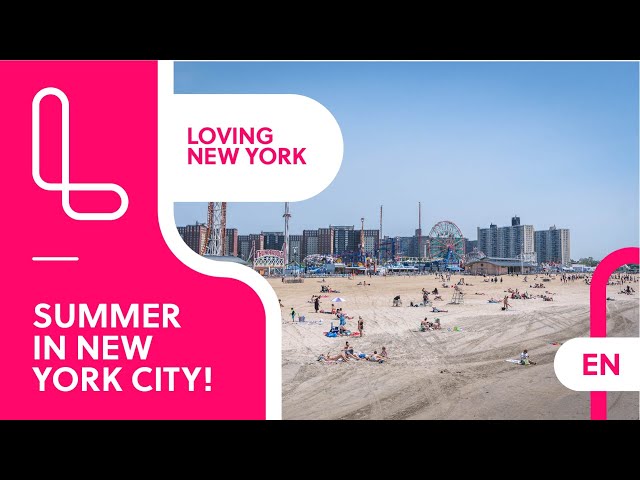 What are the best beaches in New York?
Finding really great beaches in or around NYC can be a little bit of a challenge. However, we promise you that there are plenty of options and on certain days like the Fourth of July, beaches will be filled with activity.  The popular beaches around NYC are pretty easy to get to, but some might require some travel time. However, if you have all the time in the world, it is absolutely worth it.
1. Coney Island and Brighton Beach
We should start with the obvious here. Coney Island and Brighton Beach attract many New Yorkers and tourists during the summer. Here, you'll find a beautiful boardwalk, many food vendors, attractions and of course the infamous Luna Park. There's something for everyone and plenty of sand to sprawl out in. We recommend going in the morning because it tends to get really busy – all the time. You can take the N, Q, D or F trains here. It's the very last stop, so it's pretty difficult to miss.
2. Manhattan Beach
If you want a quieter beach, you can always head to Manhattan beach, not located in Manhattan, but Brooklyn. Go early enough and you can usually get a great spot. It's a great place to just relax, have a picnic or BBQ with friends. You also don't have to worry about a busy crowd that's usually at Coney Island and Brighton Beach. You can take the B or Q to Brighton Beach station and then take the bus over to Manhattan Beach.
3. Rockaway Beach
To anyone that's into surfing, Rockaway beach is probably your best bet. Although the waves aren't as big as it is out West or other parts of the world, the waves here are good enough. It's a very popular beach and fairly clean, even though it attracts massive amounts of people. There are tons of activities going on on this stellar beach. From food vendors to people playing volleyball or throwing the frisbee, you're guaranteed a good time. Getting to Rockaway Beach is fairly easy as well. You can take the A train to Broad Channel Station and take the S (shuttle) to Beach 90 Street Holland station. From there it's only a 5-minute walk to the beach.
4. Hudson River Park Beach
There's a new beach in town and it's Manhattan's very first beach! Can you imagine, all these years, Manhattan will finally have a public beach? It's set to open in 2020 on the west side and will surely be one of the best things to do in the summer in NYC. Even though it's called a beach, we're pretty sure the waters won't be open to swimmers, but there will be plenty of sand for potential volleyball courts. We'll have more information on this beach once more details emerge!
5. Montauk
Before you set your sights on Montauk, we're letting you know right now that this beach is far. It's located deep in Long Island. The great part is, however, is that because it's so far, not a lot of people will flock to it. You can definitely have your space here. We definitely recommend taking a car if you decide to visit this beach.
6. Jones Beach
If you want great scenery, then Jones Beach is the place to be. The beach is located in Long Island and a little further out than Long Beach. What's great about this beach is that it has an outdoor theater as well! It's very unique and guests can watch concerts and performances here. Driving by car would be the best way to get to Jones Beach. Public Transportation is also great and the trip would be about almost two hours. To learn more about this theater please click here.
7. Long Beach
Sometimes you need to get away from the city to enjoy a really amazing beach. Long Beach in Nassau County is located in Long Island. The beach was hit by Hurricane Sandy years back and sustained extensive damage, but everything has been patched up by now. The beach is beautiful and the boardwalk is awesome as well. You'll have to either take a car or the LIRR to get here, but it's definitely worth it.
8. The Hamptons
The Hamptons is a beautiful area in general. There's tons of shopping, restaurants and a lot of other things to do. If you do end up going here, we recommend spending the whole day or even more here. The area is super chic and celebrities always come here during the summer. The area is so popular that there's even a dedicated tour just to come here. The Hamptons is home to some of the best beaches in New York and you'll have multiple to choose from like Coopers Beach and Ditch Plains Beach. The best way to get there is by car. However, if needed, you can take trains to The Hamptons via LIRR.
9. Fire Island
Located south of the Long Island shore is a thin barrier in the Atlantic Ocean. This barrier is known as Fire Island and has amazing beaches such as Robert Moses State Park. Here, you can enjoy the beautiful scenery, picnics with your friends or family and even venture out into the many towns and sip on some spiked pina coladas. Also, there's this instagrammable lighthouse as well. The best way to get to Fire Island and experience this New York beach is by car. Expect to travel for about 2 hours.
10. Orchard Beach
This popular beach located in the Bronx (which also happens to be Bronx's only public beach) attracts many people during the summer in NYC. At Orchard Beach, there are numerous snack bars so you won't go hungry. If you're into sports, you're in luck as well. The beach has over 20 courts where you can play basketball, volleyball, and handball. The best way to get to this beach is by car. You can take the 6 train all the way to the last stop in the Bronx, but you'd have to take the bus right after.
Beaches in NYC amid the pandemic
Coronavirus in NYC has been challenging for every New Yorker and people are strongly encouraged to practice social distancing. Because beaches can get very busy during the summer, the city had put out rules and guidelines to make your visit safer for others and for you. You're required to wear a mask and gatherings of more than 10 people are not permitted. You're allowed to walk and run on the beach, it is closed for swimming. The city council has asked for beaches to be open for swimming once the weather gets a lot warmer. Drinking fountains and grilling of food is prohibited. We will keep this updated as more information is available.
About the author
Selwyn
Being a photographer and creative in general, New York City, I think is the perfect place to be. I moved to NYC from Boston in 2013 and never looked back. Loving New York has given me the opportunity to do what I love and share those images with you all.
Did you like this article?