Aladdin on Broadway
A whole new world in New York
Steffen
20. November 2021
·
Add this and other places to your personal travel plan. We will then help you with further suitable suggestions: free of charge and straightaway!
Who doesn't remember the story of the boy who had a magic lamp and a magic carpet? The beautiful Disney movie Aladdin was brought to Broadway by Casey Nicholaw and has been successfully taking its audience on a journey to the world of 1001 nights. Are you ready to feel the magic of Aladdin on Broadway? We've got you covered with Aladdin tickets for your next trip to New York City.
You'll also love this:
Ticket information
Aladdin Tickets
from

$42
buy
See ticket
Aladdin on Broadway
Musical critics in New York are enthusiastically talking about a new era of musicals as Aladdin the musical combines the enchanting story of friendship and love romance with the magical Arab culture. Sounds like the perfect combination to you for an amazing night out in New York City? We couldn't agree more! If you think that Aladdin is a musical only for children, you're wrong: The show comes along with first-class music, making you want to dance and sing along for 2.5 hours straight!
Genie of the Lamp
Magic, magic: Genie in a bottle, a magic spirit who will make three of Aladdin's wishes come true, is the secret star of Aladdin the musical. Played by James Monroe, who is an outstanding actor, the character is displayed incredibly entertaining, fun and makes you wish Genie was your friend, too. It is particularly brilliant to see how the stage designers create special effects, making it look like Genie actually comes flying out of his magic lamp, and Aladdin floats through the air on a magic carpet. Even after watching it, I could not tell how they do the trick! But why bother, just let yourself float on the magic carpet of the magical Aladdin musical, too!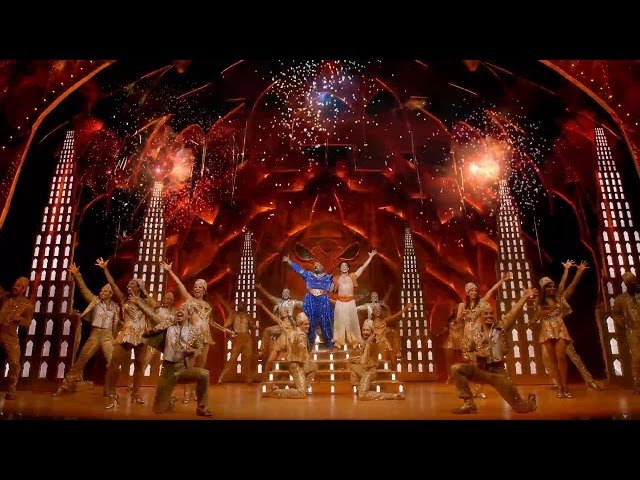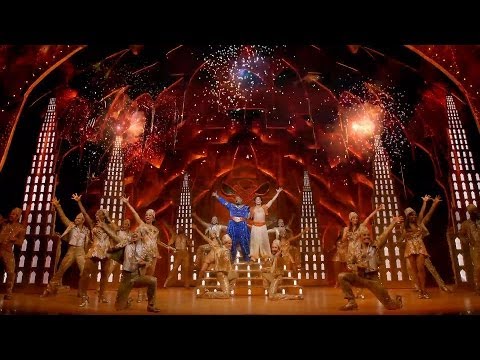 Tickets for Aladdin on Broadway
Purchase your Aladdin tickets already: simple, safe and comfortable. Due to its popularity, Aladdin on Broadway is often sold out or only seats with limited views are available. My tip: if you have the time to go on an afternoon during the week, you will be able to get cheap Aladdin tickets. There are 5 performances a day, giving you many options to choose the best Aladdin Broadway tickets for you. 
---
The Best Seats for Aladdin on Broadway
The breath-taking musical Aladdin can be seen in the New Amsterdam Theater on Broadway, a location which was opened in 1903 and has retained the charm and ambiance as one of the oldest theaters in New York City from that time. Therefore, the New Amsterdam Theater visit makes seeing Aladdin on Broadway an even more unique experience. The theater is located on 214 West 42nd Street. Here you can see the different seating categories and areas in the New Amsterdam Theatre.
We recommend sitting in either the "Orchestra" or "Front Mezzanine" sections. In these sections, you will get the most value for your money and have a full view of the stage. We recommend booking a ticket for a showing during the week, the prices are much cheaper than those for weekend showings.
About the author
I'm a true New York fan! Not only have I visited the city over 25 times but also have I spent several months here at a time. On my blog I show you the best and most beautiful spots of the city, so that you have a really good time! You can also find lots of insider tips in our New York travel guide. Also check out my hotel finder for New York!
Did you like this article?