The 33 Best Things to Do in New York in September
The absolute best things to do in September
·
New York in September is a beautiful time of year to enjoy the last rays of sunshine and explore the city in the mild weather that follows the summer heat in August. The city doesn't ever get boring and there many events to visit & things to do in September in NYC. It's a perfect time to visit as the weather is still good enough to attend all of the outdoor events.
You may also like:
The 33 Absolute Best Things To Do in September in NYC
1. The Broadway Shows are Back (starting Sept. 2nd)
The Broadway season is finally starting again: the theaters on Broadway are opening! So you can see the musicals
Here you can find our ist of the best Broadway Shows in New York. and here the complete list of current Broadway Shows.
2. Honorable William Wall
This is my discovery of the summer in New York – the floating boathouse from Manhattan Sailing Club! It is called Honorable William Wall and is located right next to Ellis Island. Especially in the evening, when you look at the illuminated Manhattan, it is just sensational here.
This is my review (AWESOME!) of the Honorable William Wall.
🥇 Look no further: That's the only New York Travel Guide you need 2021/22 (300+ pages and 600+ reviews on Amazon)
This is our COMPLETE GUIDE that includes 25+ neighborhood guides for every part of the city with New York's newest attractions like SUMMIT One Vanderbilt, Edge Hudson Yards & Little Island, our best-of lists, budget tips and the best things to do and see!
3. Enjoy mesmerizing views from an observation deck
By August, all of our observation decks in NYC will be open again! But which one is the best? I personally really like The Edge Hudson Yards the most but you can't go wrong with any of the observation decks we have. Here you find all of them!
Budget tip
If you want to visit several observations deck, attraction and tours in New York, check out the New York sightseeing passes. You can save up to 60% on the ticket price!
To find out which New York Pass is the best for you, check out my New York Pass Comparison.
4. Labor Day in New York City (September 6th)
Labor Day is a national holiday in New York that is celebrated on the first Monday in September and marks the unofficial end of the summer season. If the hustle and bustle of the city are too much for you, then a trip to Central Park is the perfect way to end the summer. Sports fans: Labor Day also marks the start of the football season.
The New York Giants and New York Jets are back in action. Due to it being a national holiday NYC can get quite busy so make sure to make plans ahead of time if you want to eat at a nice restaurant or see a show etc.
Here you can find our Best Things to Do in NYC on Labor Day.
5. Electric Zoo Music Festival
Labor Day Weekend hosts the annual Electric Zoo Music Festival in New York. The Electric Zoo Festival is a three-day music festival in the field of electronic dance music on Randall Island. Tickets are sold out quickly and should be ordered online in advance.
6. The Washington Square Outdoor Art Exhibit (September 4-6 and 11-12)
If you're in the East Village area, make sure to check out the Outdoor Art Exhibit. Here, all of the small streets and sidewalks will turn into an art exhibit. Click here for more information.
7. September 11 Memorial (September 11th)
September 11th is a time for reflection and remembering those who passed away during the terrible terrorist attacks in 2001. Ground Zero is the place of mourning and commemoration for many of the victims' relatives and a tribute service takes place at the scene of the attacks where the names of those who passed away will be read.
The places where the twin towers once stood are marked by "The Tributes In Light", a light monument created by 88 lights that are beamed into the night sky. This light monument can be seen up to a distance of 100 kilometers. All in all, it is a sad day in an otherwise lively and vibrant city. Everything you need to know about the 9/11 National Memorial can be found in our 9/11 Memorial Guide.
8. Coney Island Mermaid Parade (September 12th)
The Coney Island Mermaid Parade is one of the craziest events in New York City and will take place on September, 12th at 1 pm. Every year, thousands of costumed people make their way to the surf Avenue on Coney Island. Pirates, cuttlefish, sailors, mermaids with mussel shirts and bras mixed with music and many festivals seem like a mixture of Christopher Street Day and Cologne Carnival. All together they celebrate the beginning of the summer – a great idea for all who love the carnival. Afterward, you can also relax at the nearby Brighton Beach and enjoy the sun.
The 50 Absolute Best Things to Do in New York (90+ pages)
We've chosen the 50 best spots, events and activities to showcase the full diversity of New York City. Even after more than 20 visits, the city never gets boring for us. And with our recommendations, you'll have a really good time in New York, too, and you'll have plenty left for your next visit. If you're not planning a trip yet, you're sure to get wanderlust after perusing this list!
9. New York Fashion Week (September 8th – 12th)
New York in September is an exciting time. Get the cameras out and get ready for probably the craziest week for the fashion world in New York. Stylists, models, bloggers, and influencers from all over the world are in town to see the latest fashion trends of the very big designers. Do you want to watch a show? Check out the schedule to figure out which shows will take place.
10. US Open Tennis
For two weeks a year, Flushing Meadows-Corona Park hosts the US Open It is the main sports event in the month of September and is a unique experience. Tennis greats such as Novak Djokovic and Serena Williams compete at this major tournament. In addition, the best food trucks line up and the whole event is pretty much a big party.  The US Open will be held from August 29th to September 11th. Just like with any popular event, make sure to get your tickets in advance as this tends to sell out fast.
11. Feast of San Gennaro (September 16th – 26th)
This Italian-American festival used to be a one-day religious commemoration when the festival first took place in the United States in 1926. Immigrants from Naples used to meet up along Mulberry Street in Little Italy to celebrate Saint Januarius, the Patron Saint of Naples. This tradition was kept until today even though the celebration is a lot different compared to how it used to be. Little Italy turns into a fair for about 11 days with Italian food and free entertainment.
For more details check out our Feast of San Gennaro Guide.
12. Photoville in Brooklyn Bridge Park (September 18th)
Photoville is back and your Instagram or whatever social media platform you use is about to get meta. NYC hosts a bounty of beautiful photography exhibitions. It takes place in Brooklyn Bridge Park with more than 600 artists, 75 exhibitions, talks, screenings, seminars and hands-on workshops for budding shutterbugs. For more information, please visit their website here.
13. Steuben Parade in Central Park (September 17, 2022)
For many years, Germanic heritage and culture have proudly been on display in New York City. The Steuben Parade is one of a kind and has grown into the largest German events in the United States. Enjoy colorful traditional costumes or Trachten, singers, dancers and marching bands. The Steuben Parade is known for its great entertainment, so you shouldn't miss it if you're in the area.
Start: 9 a.m. at St. Patricks Cathedral.
14. Museum Day (September 18)
Thanks to the Smithsonian organization, you can visit museums and exhibitions in all five boroughs of the city for free on Museum Day. Among them are the Intrepid Sea, Air & Space Museum, the Museum of the City of New York, the New York City Fire Museum and the Museum of Arts and Design.
Just create your online ticket for free here and show it at the entrance of the museum!
15. Bryant Park Film Festival and Bryant Park Picnic Performances
One of the best things to do in September in New York is visiting the free Bryant Park Film Festival and picnic performances in Bryant Park. In the heart of Manhattan, people gather in the summer months with blankets and chairs they've brought themselves to relax at the outdoor movie theater and concerts by the New York Philharmonics.
You can get a seat from 5pm, the films start around 8pm as darkness falls, and the Philharmonic concerts 7pm. You can find out more about the events and the free concerts here with us and on the Bryant Park website.
16. Summer Stage Festival
At this event you can visit over 100 concerts & shows for free in many parks all over New York. It's one of the most popular summer events in New York and a MUST DO for locals. If you're in New York this summer, be sure to check out one of the shows – the exact dates and hours can be found here.
17. Smorgasburg in Williamsburg
Probably the most famous outdoor food market is back – here you can eat and drink in a stylish and creative environment. It's now not only in Williamsburg (the most famous location), but also at the World Trade Center, Prospect Park and in Jersey City.
Read our article on Smorgasburg to find out more.
18. Sail around the city
Many of the sailing cruises have already reopened and are back to the rivers of New York City. Sailing in New York City is one of my favorite things to do during the summer. There's nothing better than watching the sunset and enjoying a glass of wine onboard.
Here are some amazing options that are taking place right now, with safety measures of course:
Here are our 13 Best Cruises in NYC for August, fantastic dinner cruises, brunch cruises, lunch cruises and jazz cruises in NYC. Need more inspiration? Check out this 👇👇
What is the Best Cruise in New York for you?
There are over 40 boat and sailing tours in New York and it's not easy to choose the best one. That's where our Cruise Finder comes in. It will help you find the best boat tour for you!
19. Free Kayaking on the Hudson River & East River
This is a really cool event that can be booked several times a month: discover New York from the water – and even better: from a kayak! You can start at the Manhattan Community Boathouse (Pier 96 at the Hudson River) or at the Brooklyn Bridge Park between Pier 1 and Pier 2 (every Wednesday, Thursday and Saturday until the end of August).
Seats are limited, so be quick to secure your preferred date – here for the Manhattan Community Boathouse and here for the Brooklyn Bridge Park Boathouse.
20. Rooftop Wine Tasting with Rooftop Reds
On a Brooklyn Navy Yards rooftop, you can sit in a real winery: Rooftop Reds grows wine here, which is available to taste. You definitely have to check out their Rooftop Red Tours & Tastings – that is really unique in New York.
You can find the events on the Rooftop Reds website.
21. New York Film Festival (from September 24)
The 59th New York Film Festival will take place from September 24 to October 10, 2021 – it's an event series from the famous Lincoln Center. There are two different types of tickets you can use to support this non-profit organization: on the one hand, virtual tickets for online events and tickets for films that are shown in public – as drive-ins! There are three different drive-ins: in Brooklyn, the Bronx and Queens.
You can find more information here.
22. Visit Governors Island
Every year Governors Island hosts many unique events. Governors Island is one of my favorite places to go in the summer. We have put together the most popular for you in a separate article which can be found here: Things to do on Governors Island.
23. NYC Free Events at Little Island (August 11 – September 5)
Not far from the Meatpacking District and the High Line, Little Island is one of the newest attractions in New York and is something very special: a park on 132 beautiful tulip-shaped concrete stilts in the Hudson River.
Besides the view, you can visit various events and art exhibitions (every day except Tuesday). As a special event series called NYC Free (curated by Mikki Shepard) you can celebrate the creativity of NYC's artists with four weeks of free live performances at Little Island. Click here for the Little Island event calendar.
24. Take in stunning views from a rooftop bars
We love September because it's still warm but not so hot – it's a perfect time to visit one of the rooftop bars in New York City to either end the day or just enjoy the view during the day.
Here you can find our 43 Best Rooftop Bars in New York.
25. Take in the maritime atmosphere at Grand Banks
New York is surrounded by water, giving it plenty of waterfronts to enjoy breathtaking views. You should absolutely take advantage of NYC's waterfront in the summer! Whether you're walking along Hudson River Park or want to grab a meal, it's an absolute must-do in NYC in September. Our favorite summer location is Grand Banks because of its maritime atmosphere and super delicious food! If you decide to go to Grand Banks, try to get there a little before the golden hour.
This is my favorite spot in New York City!
Read more about Grand Banks – or check out Pilot Brooklyn!
26. Visit the new Hall of Gems at the American Museum of Natural History
More than 5,000 new exhibits from 98 countries await you in this fascinating new exhibit, officially called the Allison and Roberto Mignone Halls of Gems and Minerals. Truly impressive!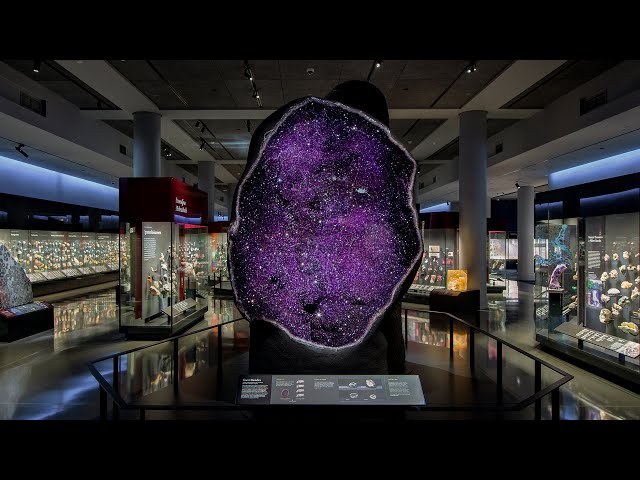 This is our article about the American Museum of Natural History.
27. Jazz at Pier 84
Every second Wednesday in September, the concert series "Jazz at Pier 84" takes place – New York and jazz are a combination that I personally like a lot. You sit at the Hudson River and the best part? It's even free because it's a project of Hudson River Park and the Jazz Foundation of America.
To see exactly which act will be at Pier 84 in New York at the time of your trip, check out the event calendar.
28. Jazz in Times Square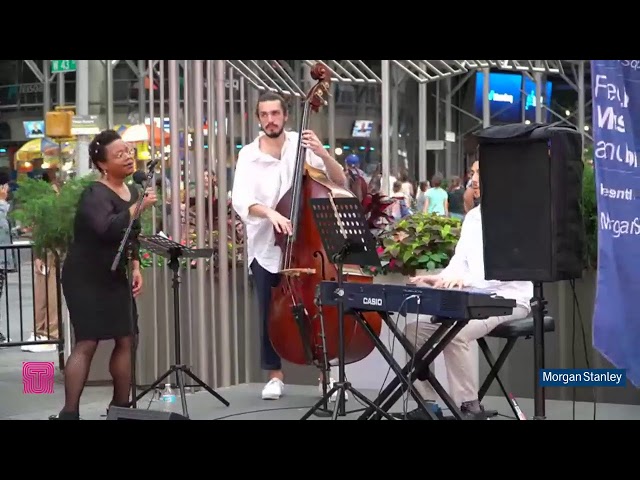 play video
Every Thursday, Times Square Plaza will introduce you to young jazz bands from New York City. At the concert you can enjoy wonderful jazz sounds in the spectacular surroundings of Times Square with its typical New York sounds. The whole event is presented by Jazz at Lincoln Center – an institution for artists in NYC.
On the official website you can find the line-up.
29. Brooklyn Americana Music Festival (September 18-19, 2021)
Pier 6 in beautiful Brooklyn Bridge Park is home to the Brooklyn Americana Music Festival. On the weekend of September 18-19 from 3:00-7:30 pm you can attend this free festival and enjoy 20 artists who will be performing live. The lineup will range from country to folk, blues, blue grass to jazz.
Learn more the Brooklyn Americana Music Festival here.
30. Superhero Festival 2021 (September 25, 2021)
The Superhero Festival is organized by the organization "New York State of Mind" (NYSoM) now for the 4th time and is a great free event in autumn (not only) for kids. Here they can create their own superheroes, participate in races ("The Flash vs. Sonic the Hedgehog") and a scavenger hunt.
Here you will find everything you need to know about the Superhero Festival NYC.
31. New York Philharmonic Season starts
The New York Philharmonic invite you to discover the 2021–22 season. Starting from September until June you'll have the chance to see the best concerts by the New York Philharmonic located in New York's Lincoln Center for the Performing Arts.
Tickets are available here and hier.
32. One Day on the Beach
New York in September can still have scorching temperatures. Why not escape the heat and drive to Coney Island and Brighton Beach. Yes, New York City has beaches. The community of Brighton Beach in Brooklyn is the largest Russian enclave in the United States. We also love Coney Island – and you will love it too!
These are the Best Things to do in Coney Island.
33. Enjoy Open Streets Columbus Avenue (every Sunday)
This is fun: every Sunday the Columbus Avenue will be close to cars (68 to 77th streets). Here you can enjoy outdoor dining, visit the famous Bazaar at 77th street or just stroll around.
More information here.
33. CANCELLED: Celebrate "Oktoberfest" in Greenpoint (till October 3rd)
The famous German bar "Zum Schneider", which had its home in Alphabet City for 20 years, will host Oktoberfest, which will be held at the Bushwick Inlet in Greenpoint / Brooklyn from September 23 to October 3.
Join the celebration with pretzels, hax'n and delicious beer – accompanied by a typical Bavarian live band.
The Weather in New York City in September
Top Tours in September in New York
| | | | | |
| --- | --- | --- | --- | --- |
| | | | | |
| | | | | |
| Great times onboard the luxurious 1920s inspired motor yacht. | The best time to visit the Statue of Liberty is the summer. This is one of our favorite tours! | Save 50% on all attraction tickets with this discount pass for NYC! | One of the most popular tours in New York during which you discover many locations from the TV series. | Explore New York's highest observation deck, regardless of the weather! |
| | | | | |
| | | | | |
| | | | | |
About the author
Steffen
I'm a true New York fan! Not only have I visited the city over 20 times but also have I spent several months here at a time. On my blog I show you the best and most beautiful spots of the city, so that you have a really good time! You can also find lots of insider tips in our New York travel guide. Also check out my hotel finder for New York!
Did you like this article?