Hamilton on Broadway
Time to get into the room where it happens
·
Add this and other places to your personal travel plan. We will then help you with further suitable suggestions: free of charge and straightaway!
When Lin-Manuel Miranda first performed the Hamilton opening song at a poetry jam hosted in the White House in 2009, the audience reacted with laughter. A rap song about America's first Treasury Secretary Alexander Hamilton? To most, that just seemed odd! Fast-forward to today, Hamilton on Broadway is the most sought-after musical … Who's laughing now?
You'll also love this:
Ticket information
See ticket
What is the Musical Hamilton About?
The Broadway musical tells the story of Alexander Hamilton, the "10 dollar founding father without a father", who came to the United States as an orphan after a hurricane had destroyed the small Caribbean island he called his home. In the time span of almost 30 years (1773-1804) he moved to the United States, overcame poverty, fought in the American War of independence and played a major role in the United States' first government while facing struggles and rivalry. That, however, is only one side of the story. In the musical, you will also learn about his personal life, including friendships, love, family and the country's first affair. Even after Hamilton "throws away his shot" in the duel of 1804, his legacy lives on.
We encourage you to listen to the intro song of the Hamilton musical. It provides you with a great idea of what the Broadway musical is all about and also gives you a taste of the brilliant music you can expect.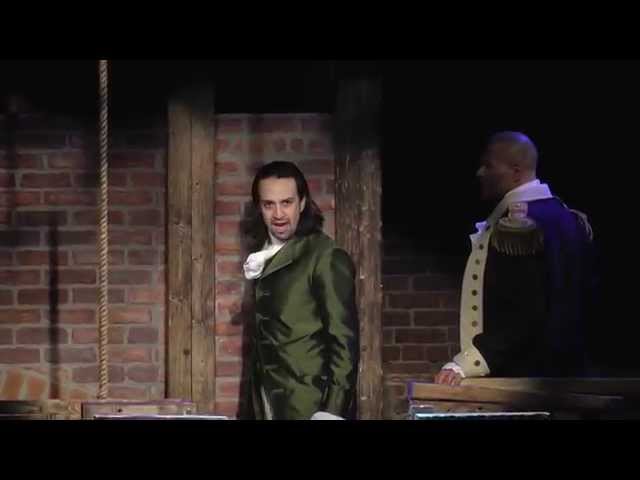 ---
Hamilton Tickets
Now you probably wonder how much watching Hamilton in New York will cost you. The answer? A fortune. Unfortunately, cheap Hamilton Broadway tickets do not exist. The show is constantly sold out and ticket prices are the highest among all Broadway shows in New York. The cheapest tickets to see Hamilton in New York start at around $350 and go all the way up into the thousands.
HAM4HAM Lottery
There is one more way for you to try to see Hamilton on Broadway without spending all your savings: The HAM4HAM Lottery. You can enter the lottery one day before your desired performance. If you win, you are entitled to purchase Hamilton tickets at $10 – an incredible price for any show, especially for Hamilton. Thank God, our first Treasury Secretary made it to the $10-bill that now dictates the ticket price. Even compared to other lotteries, $10 is the lowest sum for which you can see a Broadway show.
Sadly, even after multiple entries we still haven't won yet and do not know anyone else who has! Who knows though, maybe you will be luckier? Click here to enter the lottery for any location, including Broadway. Once you have entered, make sure to check your inbox regularly, because winners will have limited time to claim their tickets after being notified.
Statistically, you need to enter the lottery every day for 2 years to win tickets!
---
The Best Seats for Hamilton on Broadway
We mostly recommend Mezzanine tickets for Broadway shows, however in this instance if you have the chance to see Hamilton on Broadway, any seat you can get will be a great seat! If you have a choice, however, here are all seats broken down into categories, ranging from great views to okay views.
---
Hamilton Fun Facts
Hamilton is the proud winner of 11 Tony Awards. In total, the musical was nominated for a record-breaking 16 Tonys – more than any other Broadway production has ever been nominated for.
The musical is almost entirely sung through and has a total of 46 songs, all of which are unique. The hip hop songs do not only rhyme at the end of the sentences, but even mid-sentence. We highly encourage you to listen to the opening of Hamilton on YouTube or Spotify to get a feel for the musical.
It took Lin-Manuel Miranda 6 years to complete his masterpiece, including music, lyrics and the book. The result? Perfection. Did you know Lin-Manuel Miranda would write anywhere during these six years, even on his honeymoon or on subway rides? The initial inspiration of the musical originated, while Miranda was reading Chernow's biography of Alexander Hamilton. He truly felt that the life of founding-father and Treasury Secretary embodied hip hop.
The amount of motifs, references and easter eggs in Hamilton is unparalleled. You could watch the musical multiple times and still discover something new – the story is full of clever, little details. Some motifs go through the entire story – one of the strongest ones being "wait for it". 
These are just a few reasons why Hamilton is so popular and also leads the list of Best Broadway Shows in New York.
---
Hamilton Cast
Hamilton is known for its extremely diverse cast. The selection of the cast has not been random. Hamilton is a musical about America told by Americans as they are – diverse. The cast includes African-Americans, Latinos, and Asians. Composer Lin-Manuel Miranda himself is of Puerto Rican descent.
The original Hamilton cast includes:
Lin-Manuel Miranda as Alexander Hamilton, Daveed Diggs as Thomas Jefferson and Marquis de Lafayette (who "fought with him"), Christopher Jackson as John Laurens (who "died for him"), George Washington (who "trusted him"), Phillipa Soo as Eliza and Renée Elise Goldsberry as Angelica Schuyler (who "loved him") and lastly, Leslie Odom Jr. as Aaron Burr ("the damn fool that shot him").
---
Hamilton FAQ
Does Lin-Manuel Miranda play Hamilton?
No. Lin-Manuel Miranda last played the role of Hamilton in July of 2016.
Where is Hamilton playing in New York?
Hamilton is playing in the Richard Rodgers Theatre on Broadway, located at 226 W 46th St. – only a few minutes away from Times Square. It can host up to 1,319 spectators and therefore counts as one of the larger theaters on Broadway.
Do you need to know American history to see Hamilton on Broadway?
No, you will learn the entire story during the musical. However, it does help roughly knowing figures such as George Washington and Thomas Jefferson.
How to Get to Richard Rodgers Theatre?
If you secured tickets for a performance, head to "the room where it happens" at 226 W 46th St. If you're not in walking distance, take subway lines N R W to 49 Street. From there it'll only take you about 3 minutes to the theater. Make sure to be there at least 15 minutes early. As a latecomer, you will need to wait until the end of a scene until you can get to your seats. The theatre is also located right next to one of New York's most romantic restaurants: The View.
About the author
I'm a true New York fan! Not only have I visited the city over 25 times but also have I spent several months here at a time. On my blog I show you the best and most beautiful spots of the city, so that you have a really good time! You can also find lots of insider tips in our New York travel guide. Also check out my hotel finder for New York!
Did you like this article?