Things To Do in New York in August
Here's what we recommend for 2020!
New York City in August is especially beautiful. With countless things to do, concerts to attend, and events happening throughout the city, one thing is for sure – your trip won't be boring! Below we have summarized all of our favorite things to do in New York in August.
August is one of the warmest summer months in the Big Apple. The sun and humidity are at their peak. Experience a bike tour through NYC, Governors Island or go for a drink at some of the best rooftop bars in the area.  August in New York brings some exciting events and attractions to visit and is definitely a great time to visit the city.
The 12 Best Things To Do in New York City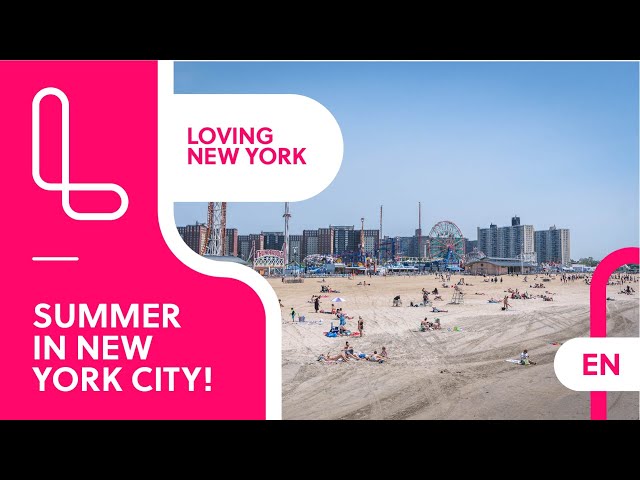 The weather in New York in August
1. (May-August): Shakespeare in the Park
Every Tuesday through Sunday you can watch two of the world's most famous plays in Central Park. In recent years, some stars have made it to this stage. Celebrities that have participated are Meryl Streep, Kevin Kline, Al Pacino, Blythe Danner, Philip Seymour Hoffman, George C. Scott and Denzel Washington. More information can be found here.
2. (Until August 20th): Coney Island Flicks on the Beach
Watch a movie on the beach at Coney Island. Overlooking the backdrop of Coney Island, the newest films will be shown outdoors until August 20th. More information is available here.
3. (August 24 and 25): Jazz Age Lawn Party on Governors Island
The Jazz Age Lawn Party is one of the best parties of the summer for those who want to dance and enjoy jazz music. This open-air event will be held on Governors Island and is one of  New York City's highlights in August. The ambiance of Governors Island could not be any better and is perfect for the jazz vibe. The island comes alive with music and is an amazing experience with the good weather in August. The event is 21+ so make sure to take your ID. If you want to know more or secure yourself tickets for this August highlight in NYC, check their website here. Make sure to buy them in advance as they sell out fast!
4. (August 26 – September 8): US Open Tennis 2019
For two weeks each year, Flushing Meadows-Corona Park hosts The US Open 2019. It is the main sporting event in the month of August and is a unique experience. Tennis greats such as Roger Federer and Serena Williams compete at this major tournament. In addition, the best food trucks line up and the whole event is pretty much a big party.
The US Open will be held from August 26th to September 8th. Just as with any popular event, make sure to get your tickets in advance as this tends to sell out fast.
5. Soak up the Sun in Central Park (Free)
You definitely shouldn't miss out on using NYC's backyard. Central Park is huge and there are many beautiful spots to stop, soak up the sun, take a walk or have a picnic. Especially in the hot summer months, you will always find some type of shade in Central Park to rest a little. Many New Yorkers use the green field to lounge, relax and escape the big-city hustle for a while.
6. Summer on the Hudson
Throughout the month, Riverside Park hosts a variety of events for all ages. From flying kites to singing karaoke, there is something for everyone. More information can be found here.
7. Spend a Day on the Beach
Summer in New York City can be very hot and the humidity is incredibly high. The breeze between the skyscrapers in Manhattan does not help either. So how do you counter the NYC heat? Why not just go to the beach? Yes, New York City has beaches. The community of Brighton Beach on Coney Island located in the southern part of Brooklyn is the largest Russian enclave in the United States.
8. Monday Evenings: Bryant Park Film Festival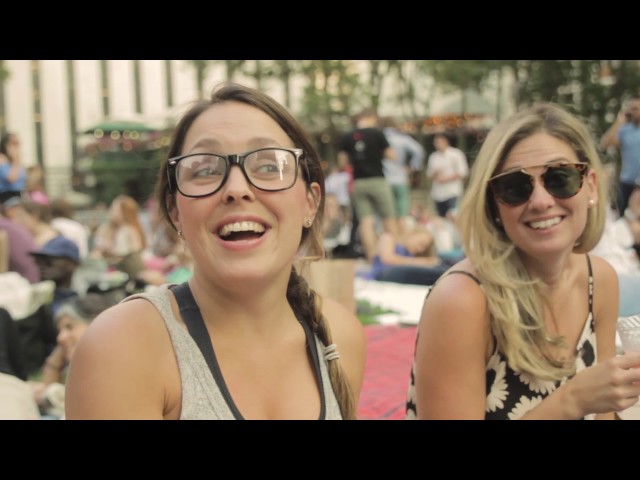 play video
A pretty cool experience is the all-inclusive open-air cinema in Bryant Park behind the Public Library. In the middle of Manhattan, people meet in the summer months with blankets and chairs to relax. It is free to the public as well. It is less than a 5-minute walk from Times Square, you're surrounded by tall trees and a bit isolated from the hustle and bustle of the city.
If you want to secure a spot, make sure to get there by 5 PM. The movie usually starts around 8 PM when it starts to get dark. Starting mid-May you can find out here which movies will be shown.
9. (Until September 24): Summer Stage Concerts
At this event, you can visit over 100 events & shows for free in 16 parks across New York. It is one of the most popular summer events in New York and a huge attraction for New Yorkers. If you're in the area during the summer, be sure to check this out.
10. LIC Landings Summer Movies
For one day of the month, you can watch an outdoor movie in Long Island City while overlooking the Manhattan skyline. More information can be found here.
11. The summer season on Governors Island
Every year Governors Island hosts many unique events. The island is a wonderful retreat and is popular with both locals and tourists. We've put together the most popular events on Governors Island for you in a separate article.
12. Visit the best rooftop bars
The summer months are a perfect time to visit one of New York City's grandiose rooftop bars. A popular example is the Rooftop Bar 230 Fifth on the (who would have thought it?) 5th Avenue. Here you can enjoy the view of the Empire State Building while sipping delicious cocktails. Also of interest are the best rooftop hotels with a pool, which is ideal in New York in August to recover from the summer heat.
13. Summer Streets
On August 3rd, 10th and 17th, parts of Park Avenue and Lafayette Street will be closed, allowing you to jog, walk and bike on these streets of New York. From the Brooklyn Bridge to Central Park, a big street festival is being created for young and old.
14. Restaurant Week
For all the foodies among you: Twice a year, New York City offers the opportunity to test the newest, best, hottest restaurants at unbeatable prices. The NYC Restaurant Week attracts thousands of visitors and New Yorkers look forward every year to this event because it offers a great opportunity to try something new or just enjoy first class food at reasonable prices.
15. Electric Zoo Music Festival
For friends of electronic music, Electric Zoo should be a household name. The Electro-Dance Festival on August 30th to September 1st on Randall's Island is usually sold out months in advance. So be sure to get your tickets online ahead of time.
16. Enjoy a Yankees or a Mets game
Baseball season is underway and New York has not one, but two baseball teams. The most popular one out of all of them is the New York Yankees which are based in the Bronx. The other one is the New York Mets which is based in Queens. For more information on sporting tickets, please click here.
17. Enjoy a drink at one of the best bars on the water
New York City in the summer means after hours of good times on one of the many bars on the water. Mingle with the locals and enjoy the sunset, a delicious cocktail and good music at Grand Banks.
18. Escape the heat
August in New York can be incredibly hot. Temperatures over 40 degrees and high humidity are commonplace. When the heat gets too much for you, cool off in one of New York's many museums. The 9/11 Memorial Museum, for example, in the morning not too crowded. You should also have seen the Metropolitan Museum of Art. The Museum Hack Tour in the Met is highly recommended.
19. A day trip to the Hamptons
For the New York locals, the Hamptons are like the Baltic Sea for the Germans. Many have their holiday destination there and drive directly to the Hamptons on Friday afternoon after work to spend the weekend there. Beautiful beaches, a lot of good seafood restaurants and lots of nature can be discovered in the Hamptons. You can do just that with a day trip to the New York Hamptons.
20. Enjoy the New York Philharmonic Concerts in the Parks
Experience beautiful music in the evening in one of the best parks in the city. There are concerts of this kind in almost every part of New York City. If there are suitable concerts during your travel time, you can find out more information here.
21. Jet ski on the Hudson River
If you take a jet ski tour, you will be guided along through many of New York's famous landmarks. A guide is always there and brings you to the locations where you'll have the best views. The jet skis pick up speed, which can go up to 55 mph. At that speed, you'll fly over the water. Fun and action are guaranteed, just make sure you're safe! There are several providers of these tours. Take a look at Jetty Jumpers or Rockaway Jetski!
22. Spend a day at the pool
This is an absolute luxury. Lying by the pool during the NYC summer while looking at the skyline of New York, is a fantastic experience. The 6 Best New York Hotels with pools will take you to Brooklyn, Soho, the Meatpacking District, and Central Park. Surprisingly there aren't many outdoor pools in NYC, so if you have a chance to stay at a hotel with one, take advantage of it.
About the author
Selwyn Tungol
Being a photographer and creative in general, New York City, I think is the perfect place to be. I moved to NYC from Boston in 2013 and never looked back. Loving New York has given me the opportunity to do what I love and share those images with you all.
Did you like this article?