Things To Do in New York in March
The 25 Top Events in March in NYC
There are a bunch of things to do in New York in March. It's the tail end of winter in the Big Apple but it can still be bitterly cold. Here are some of the best attractions and events. Check out all the things NYC has to offer!
You may also like
Usually, spring officially begins on March 21, but NYC in March is still pretty cold. Even so, the city still provides plenty of activities. In this article, we provide you some of the best things you can do here in March.
The weather in NYC in March
1. The Orchid Show at the New York Botanical Garden
The New York Botanical Garden has numerous exhibitions throughout the year. During spring, the New York Botanical Garden presents the Orchid Show. In their impressive greenhouse, visitors can admire the beautiful orchids that are centralized around a theme. Last year's theme was "Thailand". We strongly recommend you to marvel at these plants. Details can be found in our article here.
2. March 17: NYC Saint Patrick's Day Parade
On Saint Patrick's Day, everybody in New York City "becomes" Irish. This year the parade will take place on March 17. The famous St. Patrick's Day Parade is one of the oldest parades in New York City and each year more than 700,000 people are part of the spectacle.  The parade usually starts at 11 AM on 44th Street and 5th Avenue and then runs north along Central Park, turning east on 86th Street and finally ending on 3rd Avenue.
See our complete St. Patrick's Day Guide here.
3. The Vessel at Hudson Yards is celebrating 1 year anniversary
This month the highly anticipated new attraction in NYC named "Vessel" of 2019 is celebrating 1 year anniversary. Make sure to reserve your spot to go see the stunning attraction in New York City and climb the  2,500 individual steps and 80 landings. It's almost one mile of the vertical climb above the Public Square and Gardens. Enjoy the remarkable views from the Vessel in New York City's newest neighborhood Hudson Yards. You can find your tickets here.
4. March 8: International Women's Day
Celebrate International Women's Day in New York City. Around that day there will be tons of events, free women's runs, workouts and so much more.
5. March 15: United Airlines NYC Half Marathon
This is one of the popular running races in NYC. It's a dream course and race. You start in Brooklyn, run over the Manhattan Bridge and run towards Central Park. The race usually starts at 7:30 am at Prospect Park in Brooklyn.
You can see last year's full route here.
6. March 24 – April 7: Macy's Flower Show
Spring officially starts in March, and one of the things to do in March in New York is to attend the Macy's Flower Show. The whole department store located at Herald Square becomes a sea of flowers. It's a pretty cool shopping experience and a reminder that spring is right around the corner so be sure to stop by.
7. March 7th: NYC Winter Wine Festival on Times Square
Check out the PlayStation Theater on Times Square on March 7th to experience the Winter Wine Festival. Taste local wines from the Hudson Valley and enjoy appetizers while listening to fine Jazz music by Alex Bugnon. You can purchase your tickets here.
8. Events around Brookfield Place and the Oculus at WTC
Stop by at Brookfield Place in Lower Manhattan and the Oculus at WTC for some fun events in March. They offer live ballet shows, concerts and dinner movie nights. Check out the schedule here.
9. Shopping at Brooklyn Flea in Crown Heights
Famous for its flea market and point of interest for both locals and tourists is the area of Crown Heights in Brooklyn. Are you looking for vintage clothes? The indoor flea market Brooklyn Flea is the place to go for it. A total of 125 vendors inspiring with their very own creativity every weekend. Check it out Saturdays and Sundays from 10 AM to 6 PM on 1000 Dean Street, Brooklyn.
10. Brooklyn Nets or New York Knicks?
You can't go wrong with a night well spent at Barclay's Center or the famous Madison Square Garden. Either team will be a fun and interesting game to watch. Check out our full Brooklyn Nets or New York Knicks Guide for the best tickets.
11. Sunsets on top of the One World Trade Center
Winter brings the most beautiful sunsets they say. It's true, we have experienced amazing times watching the sunset in NYC in the wintertime. One of the best locations to do so is at the observation deck of the One World Trade Center. Enjoy panoramic views of the entire city including Brooklyn Bridge, the Empire State Building and Queens. Find your sunset experience tickets here.
12. Visit the 9/11 Memorial
You can never go wrong with a visit to a museum in  New York City and there are numerous places to choose from. One that we recommend is located in Lower Manhattan. The 9/11 Memorial Museum is one of New York's most recognizable museums following the attacks on NYC on September 11, 2001.
My budget tipp: most of the museum can be visited for free with the New York Sightseeing Passes
The construction was significantly more expensive than planned according to some US media reports and cost about one billion dollars (729 million euros). We can highly recommend this museum and it's one of our top 5 museums in the city.
13. Take a Walk in Central Park
One of the things to do in New York in March is taking a walk through Central Park. It might still be cold, but it's worth it. And if there's snow, it's even more amazing.  Usually, tourists tend to start on 5th Ave near the Plaza Hotel. If you want to be more adventurous start in Harlem and walk down Central Park towards Midtown. You'll see more of Central Park this way.
14. Ice Skating in Some of The Most Famous Ice Rinks in the World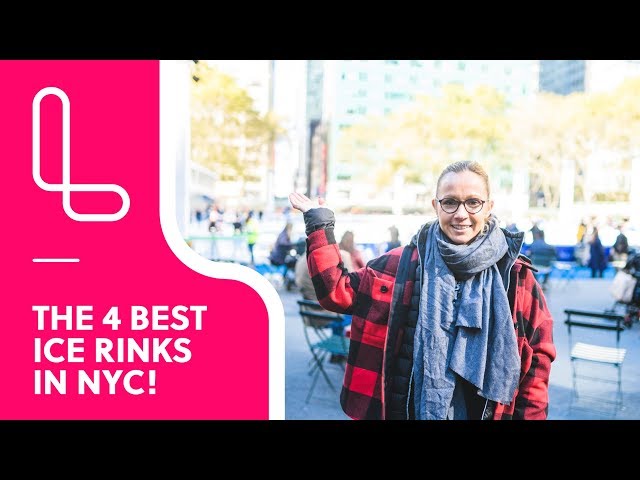 Ice Skating is definitely one of the things to do in New York in March. Here are our top 3 ice rinks in Manhattan.
The Ice Rink at Rockefeller Center offers a memorable experience in a great setting in front of the city's most famous Christmas tree. Expect to wait to get into the rink and is considered and one of the most popular to New Yorkers. Address: 30 Rockefeller Plaza between 49th and 50th Streets / Cost: $9.50- $19, skate rental $8.
The Rink in Bryant Park invites you to ice skate during the Holiday season. Address:  Sixth Ave between 40th and 42nd Street / Cost: Free, skate rental $20.
Thousands of New Yorkers and tourists flock to the world's most famous ice rink:  The Wollman Rink in Central Park. For a New York fan, this is probably the number one to-do list during the winter season in New York. Address: enter the park at 59th and 6th Avenues or 59th and 5th Avenues / Cost: 6-18 $, skate rental $ 8.
15. March 5 – 08: The Armory Show
From March 5–08, 2020 at Pier 92 and 94, New York's Premier art show takes place. The Armory Art Show will exhibit some of the most important 20th and 21st-century art. This event has been going strong for 24 years and has about 65,000 visitors annually. For more information, please check out this link here.
16. A day at the museum
New York City has a bunch of incredible museums. Some of them are considered as the best in the world such as the Metropolitan Museum of Art or the famous MoMa. If you experience a very cold or rainy day in the city, go check out one of the museums New York City has to offer. These are our favorites.
17. Music on top of the Empire State Building
It has been an insider for years. Not anymore unfortunately but we still highly recommend doing it: Every Thursday, Friday and Saturday your visit of the Empire State Building will be filled with music by a saxophonist. We know it's so cheesy but can you picture something more romantic than that? Check out tickets for the Empire State Building here.
18. March 9: National Meatball Day in Little Italy
Stroll through the touristy area of Little Italy and enjoy some of the best meatballs you can possibly find in the city (except at the Meatball Shop of course). On March 9 we celebrate National Meatball Day. Check out the best restaurants in the area to have your best Meatball experience that day.
19. March 6th: Chelsea Market in celebration of Oreo Day
Yes, you read that right. There's an Oreo Day that celebrates the yummy cookie. There's no better place to go in New York City than Chelsea Market the birthplace of the sweet sandwich cookie which is made up of two chocolate disks containing a sweet cream filling and is loved by millions.
20. NYC One World Observatory Skip-the-Line Ticket
If you want to go to the top of the One World Observatory, chances are you'll probably be waiting for a good amount of time. This ticket will give you VIP access to the VIP line and elevator making your waiting times shorter.
21. Check out a sporting event
| | | | | | | | | | | | | |
| --- | --- | --- | --- | --- | --- | --- | --- | --- | --- | --- | --- | --- |
| | January | February | March | April | May | June | July | August | September | October | November | December |
| Football | | | | | | | | | | | | |
| Baseball | | | | | | | | | | | | |
| Basketball | | | | | | | | | | | | |
| Hockey | | | | | | | | | | | | |
| Soccer | | | | | | | | | | | | |
Check Out Some NFL Matchups
Arguably the most popular sport in the US is about three months into their season. That means the New York Giants and the New York Jets are in action! Which team will you root for?
Basketball fans, this month is for you. The NBA is in its second month. Check out either the New York Knicks or the Brooklyn Nets at either the Madison Square Garden or Barclays Center, respectively.
If you're a fan of hockey then New York City has two professional teams. One of them plays at the infamous Madison Square Garden and the other plays at the more recent Barclays Center in Brooklyn. The teams are the New York Rangers and New York Islanders, respectively.
About the author
Selwyn Tungol
Being a photographer and creative in general, New York City, I think is the perfect place to be. I moved to NYC from Boston in 2013 and never looked back. Loving New York has given me the opportunity to do what I love and share those images with you all.
Did you like this article?