The Statue of Liberty Museum
Finally - $100 million dollars and two years later
Steffen
8. September 2021
·
·
Our Highlight
Add this and other places to your personal travel plan. We will then help you with further suitable suggestions: free of charge and straightaway.
And don't forget to check out our NYC guides. They will help you save $100 right away on tickets!
More than 130 years after the unveiling of the Statue of Liberty, a new museum has opened on Liberty Island, making it the largest addition in the Statue's history. The museum tells the story of the Statue and reminds visitors of the ideal she represents.
Table of Contents
Ticket information
Regular ticket
from

$26.00
buy
See ticket
Key Facts about the Statue of Liberty Museum
When did the Statue of Liberty Museum open?
The opening of the Statue of Liberty museum took place on May 16th, 2019.
How much is a ticket to the Statue of Liberty Museum?
Admission is completely FREE to all visitors. All you need to pay for is the ferry ride to the island.
---
The Statue of Liberty Museum: what's new?
1. It's accessible to a larger number of people
Did you know that more than 4 million people visit the Statue of Liberty annually, but only 20% of all visitors were actually able to visit the old museum inside the pedestal? Due to increased security measures after 9/11, the number of people that could access the pedestal had been sharply limited and Statue of Liberty tickets are sold out quickly.
Tickets for the crown require you to reserve months in advance and if you are trying to visit Miss Liberty spontaneously, you may be out of luck depending on your travel dates! The good news here is that the new Statue of Liberty Museum is providing more space to host more visitors. It is also completely free to visit.
2. It offers a more engaging visitor experience
The Statue of Liberty Museum's goal is not only to reach a much larger audience, but also to enhance the general visitor experience by offering more interactive and engaging multimedia components. It educates about the construction, history, and meaning of the Statue of Liberty through three gallery spaces:
Engagement Gallery
Inspiration Gallery
Immersive Theater
3. It emphasizes the importance of sustainability
The new museum attaches great importance to sustainability. It disposes of a green roof and large glass windows to allow more natural light to shine in. Further, it will be built with material native to Liberty Island. It even features material reuse of the existing Administration Building.
The 50 Absolute Best Things to Do in New York (90+ pages)
We've chosen the 50 best spots, events and activities to showcase the full diversity of New York City. Even after more than 20 visits, the city never gets boring for us. And with our recommendations, you'll have a really good time in New York, too, and you'll have plenty left for your next visit. If you're not planning a trip yet, you're sure to get wanderlust after perusing this list!
What can you see inside the Statue of Liberty Museum?
The new museum of Statue of Liberty offers interactive features, huge glass windows and lots of light. One of the main highlights is Bartholdi's original, slightly warped torch, weighing 3,600 lbs (1,633 kg).  The torch was installed in a light-filled atrium overlooking the statue and Manhattan's skyline. Impressive!
On top of that, you'll get to see a full-scale replica of the Statue of Liberty's face and her foot. In total, you should calculate approximately 45 minutes of your time to fully experience the museum.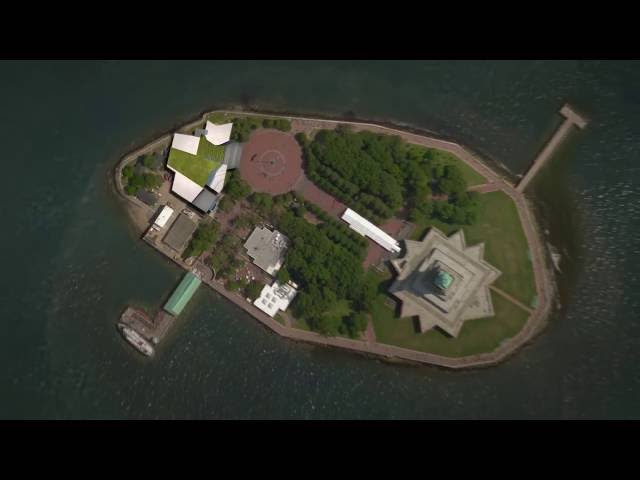 Financing of the Statue of Liberty Museum
The construction of the new Statue of Liberty Museum was partly financed by the public. In September of 2018, the Statue of Liberty – Ellis Island Foundation launched a crowdfunding campaign called For Lady Liberty that had quickly raised over $83,000 from 1,339 backers, exceeding their goal by more than $30,000.
In fact, this is not the first time the public is providing funds to support the Statue of Liberty. Back in 1886, American citizens were asked to help fund the statue's base through attending benefit concerts and purchasing souvenirs, such as photos.
As you can see, the public has a history of contributing to the Statue of Liberty, which again demonstrates its incredible importance for so many people. Inside the museum, you can see stars being placed on the wall to the left. Every star has the name of the donors who donated money towards the new Statue of Liberty Museum.
About the author
Steffen
I'm a true New York fan! Not only have I visited the city over 20 times but also have I spent several months here at a time. On my blog I show you the best and most beautiful spots of the city, so that you have a really good time! You can also find lots of insider tips in our New York travel guide. Also check out my hotel finder for New York!
Did you like this article?