The 13 Absolute Best Ice Rinks in NYC 2023
Amazing Rinks To Go Ice Skating In NYC
Steffen
17. November 2023
·
The city gets pretty cold during the holiday season and ice rinks in New York start to open up as early as October. Regardless of the cold, however, ice skating in NYC is on many people's bucket lists. It's a lot of fun and a great way to take in the city in the midst of beautiful skyscrapers.
You'll also love this:
If you ask yourself where to go ice skating in New York, we got you covered! Whether you find yourself Downtown or Uptown, there are a couple of great ice rinks in NYC that let you show off your ice skating skills. Not only do the ice rinks differ in location, but they also differ in size and pricing. To give you an overview of the best ice rinks in New York City, we've created a list of the best ones for you!
Where to Go Ice Skating in NYC
01

Bryant Park Ice Rink (end of October - early March)

Christmas Market

in

Midtown Manhattan

Our Highlight

Bryant Park is located just behind the New York Public Library near Times Square. In the summer months, the park is known for its film nights and in winter it is home for one of the best ice rinks in New York. Here you'll be able to ice skate in the midst of the New York skyscrapers. The crowd is a good mix. There are cheerful couples, children who chase each other wildly over ice, to office workers who just want to have a great time before going to the office or to use their lunch break differently!

Ice skating in Bryant Park is one of the best things to do in NYC in the winter. It's also the perfect choice if you are looking for free ice skating in New York as the rink at Bryant Park only charges for the rental. Admission to the rink is free!

Recommended: Our complete guide to Bryant Park Winter Village

02

The Ice Rink at Rockefeller Center (end of Oct. - early March)

Other Attraction

in

Midtown Manhattan

The Rockefeller Rink, just below the Rockefeller Center's Christmas Tree, is considered one of the classics. It's open from October to April. Come here during the night and experience greatness. The Rink at Rockefeller Center is one of the most popular destinations to go ice skating in New York, which is why you are likely to wait in line to skate here. If this rink is on your bucket list, know that there are a few tickets you can purchase in advance to avoid standing in line for too long.

03

Wollman Rink (end of October - early March)

Activities

in

Upper West Side

Wollman Rink in Central Park is also one of the well-known ice rinks in New York. Everyone who comes to New York in winter will most likely end up here if they are in Central Park, even if it is only for a photo. It is open from the end of October to April. The best way to find the Wollman Rink is to use the Central Park South entrance on 59th street. You will be there in 2 minutes! Wollman Rink is the best place to go ice skating in NYC if you are looking for a large rink.

04

NYC's newest ice rink: Glide at Brooklyn Bridge Park

Other Attraction

in

Dumbo

Enjoy a breathtaking view of New York City's skyline while you show off your skating skills on the newest ice skating rink. Glide at Brooklyn Bridge Park will be open from November 15, 2023, to March 1, 2024, offering you an unforgettable winter experience. After you've had a blast on the rink right under the Brooklyn Bridge, you can recharge with a hot drink or a snack.

If you want to go ice skating here, you should book your time slot (50 minutes) in advance.

05

Ice Rink at the Seaport (from November 22, 2023)

Activities

in

Financial District

This ice rink is a very special recommendation from us. At Seaport Square between Pier 16 & 17 there is the possibility to go skating with a magnificent view of the Brooklyn Bridge and the skyline of Lower Manhattan. Because of its unparalleled views, it is one of our favorite places to go ice skating in NYC! 

06

Vale Rink (from November 27, 2023)

Other Events

in

Williamsburg

The Vale Rink is a small ice rink on the roof of The William Vale in Williamsburg. What makes this rink so special is the view. From here you can overlook the whole of Manhattan. It's best to combine your visit with a visit to their rooftop restaurant!

Fun fact: the ice you're skating on isn't really water, it's a synthetic ice that doesn't need cooling!

07

Sky Rink at Chelsea Piers

Other Attraction

in

Chelsea

The Chelsea Piers are a paradise for all skating fans. The two covered ice rinks, near the Hudson River, are open around the clock and all year round. Since 1969, anyone can skate here or join one of the skating courses.

08

The Ice Rink at the Standard High Line Hotel

Activities

in

Meatpacking District

Every winter, the small plaza of The Standard Hotel in the Meatpacking District turns into an ice rink. It's not big, but it's really beautiful. It's right next to the High Line and the Whitney Museum. Afterwards, have a drink at the bar or visit the rooftop bar Le Bain to enjoy the sunset over the Hudson River!

09

The Rink at Brookfield Place (from mid-November 2023)

Ice Rink

in

Battery Park City

Another great place to go ice skating in NYC is Brookfield Place. Outside the gorgeous winter garden, you can find The Rink at Brookfield Place. It's a medium-size ice rink in New York and offers great views of the winter garden and the Hudson River. A visit here can perfectly be combined with seeing the popular "Luminaries" light show at Brookfield Place that runs from December through early January.

The ice rink a Brookfield Place offers skate lessons and hosts a variety of events throughout December. 

10

LeFrak at Lakeside Prospect Park (already open)

Prospect Park has been a popular Brooklyn attraction for more than 150 years. The largest and most ambitious project to take place inside this park is Lakeside, which is home to the Samuel J. and Ethel LeFrak Center. In the winter, you can engage in activities such as ice skating, curling, ice hockey, and figure skating. 

The festivities began on November 12, 2022, and are open seven days per week. There are two rinks to choose from, one indoor and one outdoor, and admission is free, but there is an additional charge for skating. Check out the website for more information or to book tickets in advance. 

11

Riverbank State Park Ice Rink (already open)

Other Tours

in

Harlem & Washington Heights

Riverbank State Park is located 69 feet above the Hudson River and comprises a 28-acre public park. This attraction serves as uptown's only skating rink. In the summer, the indoor rink hosts roller skating, but in the winter, it's transformed into a winter wonderland where you can ice skate, figure skate, or play ice hockey. Located at 679 Riverside Drive, Manhattan, the ice skating season runs from November through March, seven days per week if weather permits. Riverbank State Park has additional information, including ticket prices, on their website. 

12

Sky Skate at The Edge (Nov. 15, 2023 - Jan.14, 2024)

Activities

in

Hudson Yards

For those of you who have always wanted to reach for the sky, you can now skate above the clouds! From January 10 until mid-March, you can enjoy the view of the city while gliding across the synthetic ice on The Edge's indoor Sky Deck. Tickets include Edge admission, your 30-minute skating experience, and free skate rental. Get your tickets to New York City's tallest skating rink now!

Schedule:

November 15 – 10AM to 8PM
November 16 to November 22 – 2PM to 8PM
November 23 to November 26 – 10AM to 9PM
November 27 to December 14 – 2PM to 8PM
December 15 to January 7 – 10AM to 9PM
January 8 to January 14 – 3PM to 7PM

13

Go skating at the Winter Whirl Holiday Roller Rink at Oculus

Activities

in

Financial District

I admit: this is not classic ice skating. But you'll still feel like you're in a winter wonderland. NYC's Winter Whirl roller rink at The Shops at the Oculus offers a unique skating experience amidst iconic architecture. Glide around the stunning rink to festive tunes, capture memorable selfies at the holiday-themed photo spots, and enjoy special events and live music. Whether you bring your own skates or use their quality rentals, be sure to book your slot in advance!

Winter Whirl is open Wednesday through Sunday, from November 24 to January 21, 11:00 am to 10:00 pm, with the last admission at 9:00 pm and with special hours on December 24 and December 31. Prices are $30.00 for adults and $25.00 for minors, with an 8-year-old minimum age requirement for skaters. Those aged 8 to 13 must be supervised by a parent or guardian, and all skaters under 18 need a signed release. Tickets include 45 minutes of skating and roller skate rentals.
Our Favorite Spots to Go Ice Skating in NYC (Video)
Best Ice Rinks in NYC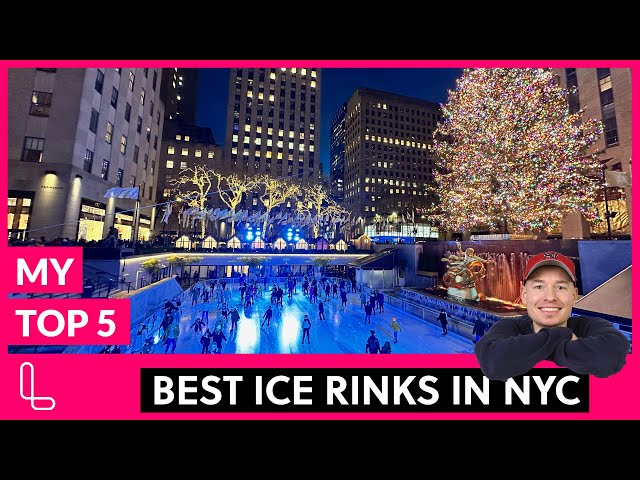 ---
FAQ
How many ice rinks are in New York?
There are multiple ice rinks in New York across all boroughs. The most popular ones, however, are located in Manhattan. Our top list features the best ice rinks in NYC.
How much does it cost to ice skate in NYC?
How much it costs to go ice skating in NYC depends on the rink you choose. You can take advantage of free ice skating at Bryant Park. There, you only have to pay the ice skate rental fee. Other ice rinks, like the Wollman Rink in Central Park, charge almost $20 for admission alone.
Where can you skate in NYC?
You can go ice skating in NYC pretty much in every borough. Manhattan, however, is most popular featuring the ice rinks at Rockefeller Center, Bryant Park, and Central Park.
When can you ice skate in NYC?
Ice rinks in New York open as soon as late October and early November. Bryant Park is typically the first one to open. You can then ice skate until March.
About the author
I'm a true New York fan! Not only have I visited the city over 25 times but also have I spent several months here at a time. On my blog I show you the best and most beautiful spots of the city, so that you have a really good time! You can also find lots of insider tips in our New York travel guide. Also check out my hotel finder for New York!
Did you like this article?