The Winter Village at Bryant Park
NYC's best Christmas market
·
·
Our Highlight
Add this and other places to your personal travel plan. We will then help you with further suitable suggestions: free of charge and straightaway!
Kicking off at the end of October, Bryant Park's Winter Village opens the holiday market season in New York. Besides being the first to open, it's also the longest-running, inviting visitors to explore their impressive array of booths all the way through New Year's Day.
You'll also love this:
Debuting in 2002, Winter Village in Bryant Park is one of the most festive Christmas markets in NYC. The center of the city is a truly inspiring place to drink in the splendor of winter as you and your loved ones stroll down aisle after aisle of specialty vendors and themed attractions. Winter Village has lots to offer: an ice skating rink with free admission, holiday stands to offer seasonal bites, beverages to refuel, local crafts, jewelry, clothes, and many more cute baubles.
Though the Winter Village Chrismas market at Bryant Park closes on January 2nd, events run through January and February. The program for 2022 includes live performances at the Lodge, kids week, bumper cars, winter fitness, broomball, and exerskate.
When is the Winter Village at Bryant Park open?
This year you can visit the Winter Village from October 28, 2022 to January 2, 2023!
New York's Best Christmas Market
Midtown's winter wonderland is once again open for the season. With NYC's only free admission ice rink, a huge variety of holiday shops, and even a full-fledged restaurant the Winter Village at Bryant Park is definitely the best Christmas market in NYC.  The market offers new and creative gift ideas, activities, food and a whole lot more. The atmosphere is always festive and is the perfect opportunity to get in the Christmas spirit right in the middle of Manhattan.
After a long day of sightseeing, the Winter Village at Bryant Park is a great place to grab a bite to eat. You will find everything ranging from mac & cheese to authentic German bratwurst.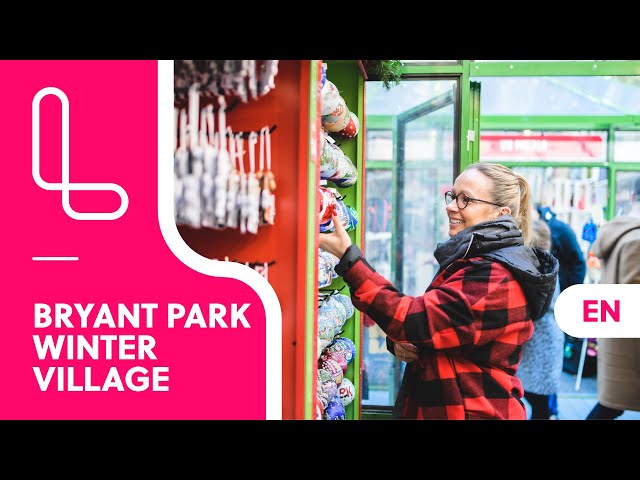 The Winter Village at Bryant Park has a huge amount to offer. Countless stores ranging from home decorations, artwork, and jewelry to food sweets and gifts give you plenty to explore. You can really spend a whole afternoon here, ice skating, eating, drinking and enjoying the pre-Christmas atmosphere. It really is a magical place for kids and adults alike and is the only European inspired Christmas market of its kind in NYC. When I visited in 2022, I ended up going multiple times because there was so much to explore and it only gets bigger and better every year.
If you are looking for a unique place to have dinner definitely check out the Overlook restaurant. Located above the rest of the Winter Village, it gives you some amazing views of the surrounding skyscrapers, the ice rink, and the rest of the beautifully decorated Bryant Park. For us, this is definitely the highlight this year and we highly recommend you visit.
Overview of all the stores and food vendors
To take a look at what you can expect once you get there in terms of food, shopping and more, click the button below. You will find a filterable list of all the stores and shops so you can already take a look at which ones might be interesting for you!
View all shops at the Winter Village
Get personal tips & tricks, specifically tailored to your trip!
We will provide you with individual tips & tricks as you prepare for your trip. How to plan, save money and make sure you experience the most of NYC are only some of the topics covered!
About the author
Steffen
I'm a true New York fan! Not only have I visited the city over 20 times but also have I spent several months here at a time. On my blog I show you the best and most beautiful spots of the city, so that you have a really good time! You can also find lots of insider tips in our New York travel guide. Also check out my hotel finder for New York!
Did you like this article?