Bryant Park in New York City
A full guide to New York's beloved park
·
Add this and other places to your personal travel plan. We will then help you with further suitable suggestions: free of charge and straightaway!
Bryant Park is a green oasis in the middle of Manhattan's hustle and bustle that enjoys great popularity among locals and visitors. It is also one of our favorite parks in New York City. In this insider guide, we want to help you understand why it is so special and fill you in on the best things to do in Bryant Park.
Things to do in Bryant Park in NYC
Bryant Park is one of the busiest public spaces in New York and one of the best things to do in Manhattan. It is centrally located in the heart of Manhattan and completely surrounded by skyscrapers. Only a block away from Times Square and adjacent to the New York Public Library, you will find it at the intersection of 42nd and Sixth Avenue.
The 9,603-acres are a popular resting spot for visitors and locals. In fact, more than 12 million people visit Bryant Park in New York each year. However, Bryant Park is not only a park to relax. Did you know that there are year-round seasonal events in Bryant Park, taking place on and around its lawn? The programming is privately funded and free to visitors.
---
Our Top 5 in Bryant Park NYC
1

Free Summer Movies

The Summer Movies at Bryant Park are one of our favorite summer events. What could be nicer than watching a movie al fresco on a warm summer night in Manhattan for free?
2

Winter Village Holiday Market

The Winter Village in Bryant Park is not only one of the largest holiday markets in New York but also one of the most beautiful ones. Hot cocoa, snacks, and handcrafts are waiting for you here!
3

The Rink

The ice rink at Bryant Park is one of the most popular ice skating rinks in New York. A great perk is that it's free! All you have to pay for is the skate rental.
4

American Radiator Building

Bryant Park lets you admire several of New York's skyscrapers, like the Empire State Building. Another popular skyscraper that stands out, however, is the American Radiator Building. Facing south, you'll be able to take the best photographs of this New York icon.
5

 Refinery Rooftop Bar

In close proximity to Bryant Park, the Refinery Rooftop Bar offers you great cocktails with a wonderful view of the Empire State Building across two floors.
---
The best sights & activities in Bryant Park
There is always something to discover or experience in Bryant Park in NYC. Small cafés with French charm invite you to linger to take in the sights of the city life that bustles through the park. Take advantage of lazing on the lawn and don't be hesitant to participate in various events taking place throughout the year. Thanks to private funding, everything you can see and do here is free!
The skyscrapers around Bryant Park
So what makes the small park in the middle of Manhattan so special? Bryant Park offers you a unique pastoral oasis as you are surrounded by Manhattan's modern skyscrapers. Just grab one of the countless park chairs, get a cup of coffee and let the impressive scenery work its magic on you. The contrast of nature and city, tranquillity and haste is typical for Bryant Park in NYC!
At the southern end of the park, you can see the American Standard Building which was built in 1924 by the architect of Rockefeller Center, Raymond Hood. Keep your gaze wandering and you'll spot one of New York's first glass buildings, the 1954 Chase Manhattan Bank. No less impressive is the 630 foot high Grace Building with its proud 50 floors.
However, the most prominent building along New York's Bryant Park and one of the city's most popular skyscrapers is the almost 100-year-old American Radiator Building (1924). Raymond Hood and J. André Fouilhoux designed the graceful building with dark bricks which make the golden embellishments stand out even more. To its right, you will be able to see the Empire State Building peeking out.
The Josephine Shaw Lowell Memorial Fountain
The Josephine Shaw Lowell Memorial Fountain, made of pink granite, can be found at the western park entrance on Fountain Terrace. In 1912, it was the city's first public monument dedicated to a woman. Lowell (1843-1905) was a social worker and known for founding the New York Consumers League. She also founded several nonprofit organizations, including the New York Charity Organization, the Woman's Municipal League, and the Civil Service Reform Association of New York State.
The William Cullen Bryant Memorial
The William Cullen Bryant Memorial is located on the back terrace of the New York Public Library designed by Thomas Hastings. Bryant (1794-1878) was a newspaper editor, one of America's most popular poets, and led the campaign to create Central Park. You probably already guessed it:  Bryant Park was named after him.
Johann Wolfgang von Goethe bronze bust
On the southern side of the park, you will find a bronze bust of the German poet Johann Wolfgang von Goethe (1749-1832). After his death, the statue was created by the German sculptor Karl Fischer. The bust, however, has not always decorated Bryant Park in NYC. Before it was relocated here, it was housed inside the Metropolitan Museum of Art.
Statue of José Bonifácio de Andrada e Silva
The Statue of Goethe is not the only one in Bryant Park. At the western end of the park, you can find a statue of José Bonifácio de Andrada e Silva (1763-1838) which was installed in 1955. The statue was a gift from Brazil at the time 6th Avenue was renamed Avenue of the Americas in honor of pan-American cooperation. Andrada led the struggle for Brazil's independence from Portugal and served as the first prime minister of the newly-independent country. The sculptor of the statue is José Otavio Correia Lima.
Chess, Backgammon & Board Games in the Park
What you can hardly overlook in Bryant Park are the many ambitious chess players. At the 40th Street Plaza in Bryant Park, there is a dedicated area for chess and backgammon, which is always well-attended. Here, you can either prove or improve your skills, or simply watch other enthusiastic players make their next move.
If you are new to chess, know that there are free chess lessons for beginners on Thursday afternoons.
And if chess isn't your cup of tea, you have plenty of alternatives in Bryant Park. There are over 50 board games available at Bryant Park to entertain you during your time in the park. A game administrator can help you choose and explain the rules. As all activities and events in Bryant Park, the board game rentals are free.
---
Bryant Park in the Summer
Summer Movies at Bryant Park
A unique experience are the free summer movies. At this event, you can mingle with New Yorkers and feel like a local. It's a place where everyone loves to come: young families, friends, and couples. The schedule will be published in the first few months of each year. The movies are one of our summer highlights in New York City.
Feel free to bring your own chairs and blankets and make yourselves comfortable on Bryant Park's lawn. To actually secure a spot, be there at least 30 minutes before the movie starts. They are super popular! The atmosphere in Bryant Park on a warm summer night is incredible!
Yoga in Bryant Park
Shavasana under skyscrapers? Sure! Yoga in Bryant Park is one of the many activities offered in Bryant Park. A yoga class in the middle of the hustle and bustle of Manhattan can be more relaxing than you think! Don't worry if you do not have a yoga mat on you. You can borrow them here. Isn't Bryant Park awesome? Whether you are joining a class or attending another event in Bryant Park, always try to be here at least 30 minutes before it begins.
Broadway in the Park
During selected days in the summer, Bryant Park hosts Broadway in the Park: a series of free Broadway performances over several weeks. The schedule for Broadway in Bryant Park will be published a few weeks in advance and typically features four to five of Broadway's top musicals per event.
---
Bryant Park in the Winter
Bryant Park in New York is particularly magical in the winter when the fountain at the entrance of the park freezes completely. It's a popular photo op. Winter in Bryant Park already begins with Bank of America's Winter Village Christmas Market which typically opens at the end of October or early November.
Winter Village in Bryant Park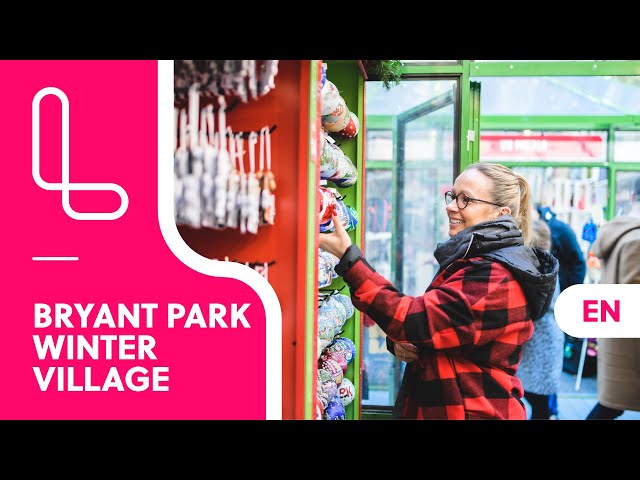 The Winter Village in Bryant Park is not only the largest Christmas market in New York but according to many also the most beautiful market. If you are in New York in winter, you shouldn't miss the Christmas market and holiday shops at Bryant Park.
The ice skating rink in Bryant Park

The Winter Village at Bryant Park is accompanied by an ice skating rink. It's located in the center of the park, surrounded by many holiday shops. If you are looking for an ice rink that offers you stunning views of New York's skyscrapers, this ice skating rink is perfect for you. What makes coming here even more worthwhile is that Bryant Park does not charge admission to the rink. All you have to take care of is the skate rental. Other ice rinks charge up to $20 for admission alone.
---
Bryant Park with Children
Carousel ride in Bryant Park
If you think you hear music in Bryant Park, it's most definitely the French cabaret music coming from Bryant Park's carousel. It consists of 14 lovingly designed animals and pays homage to the European and American carousels. A ride on the merry-go-round in Bryant Park costs $3.
Events for children in Bryant Park
Children's events in Bryant Park are also held regularly for younger New York visitors. The best day to come to Bryant Park in Manhattan with kids is Saturdays as it offers an extensive entertainment program like "Saturday Fun" or "Saturday Science". One of the most fun events in Bryant Park for kids is the "Punch and Judy Show", which is performed by the WonderSpark Puppets.
Food & Drink in Bryant Park
Bryant Park in NYC is a great spot to have a relaxing lunch break. Plenty of kiosks surround the park. For those with a small appetite, you will find many cafés with cozy seating. This dining option offers a great way to rest and recharge while still enjoying one of the best attractions the city has to offer.
Bryant Park Grill
This lovely Pavillion enjoys countless positive reviews, including high praise by the New York Times. Bryant Park Grill offers brunch, lunch, and dinner in a terrific setting. From its roof, you will have a flawless view of Bryant Park. This is not a restaurant for a casual meal but rather an upscale experience. Appetizers start at $10 and entrées at $20. If you decide to come here to eat, it's best to book a table online.
The Refinery Rooftop Bar
Would this article even be legit if we didn't include a rooftop bar near Bryant Park? New York is the greatest city to enjoy rooftop views and, naturally, you will also find a few surrounding Bryant Park. Our favorite rooftop bar in the area is the small Refinery Rooftop Bar above the Refinery Hotel. It covers two floors and lets you enjoy wonderful views of the Empire State Building.
The Lodge by Urbanspace
In the wintertime, you'll find The Lodge by Urbanspace. This pop-up food market hosts a dozen new and classic New York restaurants. It's located right next to the ice rink. The Lodge has a festive cocktail bar and numerous restaurants such as Ovenly, Pierogi Boys, Mayhem Smokehouse, The Stackery and more that won't let you leave the park hungry.
---
What's near Bryant Park?
Bryant Park is located in the heart of Manhattan, making it easy for you to combine your visit with other nearby attractions. Even Times Square is just a block away.
Adjacent to the park is the New York Public Library which is a must-visit in New York. Walking along 42nd Street, you will pass Grand Central Terminal and the Chrysler Building. While you can freely explore Grand Central, the Chrysler Building only allows you to admire its lobby which is still quite impressive.
More About Bryant Park
FAQ
How to get to Bryant Park in New York?
If you find yourself in Midtown Manhattan near Times Square, you can easily walk to Bryant Park. It is not only located within walking distance to Times Square but also to Grand Central Terminal and the Chrysler Building. Should you be further away from the park, you can take subway lines BDFM or 7 which will drop you off directly at the park.
Does Bryant Park have bathrooms?
Yes. There are wheelchair-accessible restrooms located along 42nd Street, towards the New York Public Library.
Does Bryant Park have WiFi?
Yes. Bryant Park offers free wifi. In fact, you will also find spots to charge your phone should you find yourself low on battery.
Does Bryant Park allow dogs?
Yes. You are allowed to walk your dog in Bryant Park. Nevertheless, you do need to keep them on the leash and off the grass at all times.
Is Bryant Park wheelchair accessible?
Yes. Bryant Park is wheelchair accessible and even offers wheelchair-accessible restrooms.
Is smoking allowed in Bryant Park?
No. It is prohibited to smoke in New York's parks, including Bryant Park.
Does Bryant Park close?
Yes. Bryant Park is open to the public from 7 am to 10 pm every day.
For more FAQs, please visit Bryant Park's official website. Otherwise, we hope you have a great time exploring Bryant Park in New York City!
More Parks in New York City
About the author
I'm a true New York fan! Not only have I visited the city over 25 times but also have I spent several months here at a time. On my blog I show you the best and most beautiful spots of the city, so that you have a really good time! You can also find lots of insider tips in our New York travel guide. Also check out my hotel finder for New York!
Did you like this article?