17 Best Things to do in Jersey City
What is there to do in Jersey City?
·
Jersey City is a melting pot of cultures and people and for some, it's known as the sixth borough of NYC. Jersey City, located just across the Hudson River is a very attractive living space for people working in the city. Connected to Manhattan via the PATH trains, ferries, and busses, more and more New Yorkers are moving to the growing city. It has a rich history, many diverse neighborhoods, great restaurants, and a vibrant nightlife. Hoboken is actually high up on my list of the best things to do in New Jersey.
You may also like:
This of course also attracts more tourists, since hotel rates are a little less expensive and the city is so easily accessible at any hour of the day.
Jersey City was the first destination for many immigrants entering the U.S. through nearby Ellis Island. Ellis Island operated from 1892 until 1954 and processed more than 12 million immigrant steamship passengers and not all of them found their home in New York City. Many of them started a new life in Jersey City and the surrounding areas like Newark, Hoboken, and Weehawken.
There are so many really fun things to do in Jersey City. Continue reading for the best Jersey City sightseeing, Jersey City Shopping, the best hotels and restaurants in Jersey City and so much more.
How do you get to Jersey City?
Jersey City is connected to Manhattan via the PATH train that runs from four locations in Jersey City (Journal Square, Grove Street, Exchange Place, and Newport). The closest stop to Lower Manhattan is Exchange Place. A ride into the city takes approximately 5 minutes.
Besides the PATH, you can also take the Ferry to Downtown or Midtown Manhattan from Harbor Side or Paulus Hook in Jersey City. There are also buses heading to Manhattan's Port Authority on a regular basis, but since the PATH is so close by, we would not recommend taking the bus. Find out more about the PATH and Ferry here. Within Jersey City, you can get around with the Light Rail. A train that runs all over the city.
Liberty State Park –  A 1,212-acre oasis in the middle of a major metropolitan area with views of Lower Manhattan and Statue of Liberty only being 2,000 feet away (200 Morris Pesin Dr, Jersey City, NJ 07305).
Newport Mall Jersey City – Jersey City's Mall with tons of shops and a food court and a movie theatre for those of you who like to shop (30 Mall Drive W, Jersey City, NJ 07310).
Hyatt House Jersey City & Exchange Place Rooftop – The best hotel in town right by the PATH train with a vibrant rooftop bar that offers incredible views of New York City and Statue of Liberty (1 Exchange Pl, Jersey City, NJ 07302).
Colgate Clock & Goldman Sachs Tower – The giant clock next to the Goldman Sachs Tower is a 1924 replacement for the original 1908 steel clock face. The clock stood atop the Colgate-Palmolive factory in Jersey City all the way up until the 80s (1 Essex Street, Jersey City, NJ, 07302).
Grove Street – The best street in Jersey City for bar hopping and great restaurants. Go at night and experience the Jersey City nightlife (Grove Street, Jersey City, NJ, 07302).
Our YouTube Video about Jersey City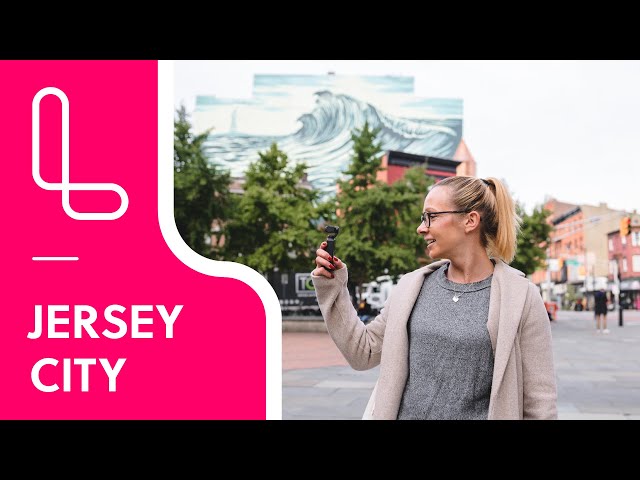 Really Fun Things to do in Jersey City
If you decide to stay in Jersey City during your trip to New York City or are even considering moving here, you can be sure that there are so many great things to do in Jersey City.
Jersey City is up and coming more than ever.
If you're wondering what is the number one attraction in Jersey City, bare with me a little longer to find out. I will also share a few insider tips about this neighborhood across the Hudson which should officially be on everyone's hotlist.
Visit the beautiful Liberty State Park
Besides all the urban vibes in Jersey City, there is a huge green space that most New York City visitors don't know about. Liberty State Park offers by far the most stunning views of the Lower Manhattan skyline and Lady Liberty. The Statue of Liberty is only 2,000 feet away. It sounds like a perfect shot, doesn't it? To get there take the Light Rail, or a city bike, since walking might be a little bit too far.
However, there is more to see at Liberty State Park than just the NYC skyline. Check out the Liberty Science Center which offers hundreds of exhibitions in 12 galleries. The IMAX Dome Theater is the largest in the nation. If you're wondering why there is this old Railroad Terminal inside the park, it's the Central Railroad Terminal of New Jersey which is part of the rich history of Jersey City.
From 1892 through 1954, the terminal was part of the immigration of northern, southern and eastern Europeans, among others, into the United States. From here they left into their new homes all over the United States via trains.
Check out the small museum which is dedicated to the history of the area.
You can also hop on a ferry from Liberty State Park and visit the Statue of Liberty. The ferry terminal is located further right of the old terminal.
Another highlight inside the park is the Empty Sky Memorial which is the official State of New Jersey's Memorial that honors the memory of the 749 people that lived in or had ties to New Jersey and lost their lives at the World Trade Center on September 11, 2001.
The brushed stainless steel twin walls are 210 feet long, the width of each side of the World Trade Center Towers and are standing parallel to each other. The names of the victims are placed on the twin walls. There are really fun photo tours, heading into the park and other locations in the area like this one.
Explore the Hudson River Walkways
If you want to, you can walk all the way from the Colgate Watch in Jersey City to Hoboken along the Hudson River. This is a great thing to do in Jersey City during sunset. You will see lots of runners, locals walking their dogs and couples enjoying the romantic atmosphere. Also, there is so much to explore along the way like actual pieces of the twin towers near Exchange Place and the 9/11 Memorial statues.
Have a night out on Grove Street
Jersey City is known for its vibrant nightlife. There are plenty of bars, that turn into smaller clubs during the night. The best area to check out some of the best bars in Jersey City is on Grove Street and the surrounding blocks. Some of my favorite bars on and near Grove Street are:
LITM (140 Newark Ave)
Luna (279 Grove Street)
Six 26 (128 Christopher Street)
The Ashford /with Rooftop Bar (145 Newark Ave)
Orale Mexican Kitchen (341 Grove Street)
The best coffee shops in Jersey City
I'm a huge coffee drinker and have tried most of the coffee shops in Jersey City since I moved here. There are too many to mention them all, but let me highlight my favorite coffee shops in Jersey City for you, so that you know which cup of Joe is worth trying in the city. Just recently a Bluestone Lane coffee shop opened on Hudson Street, right by the Goldman Sachs tower. They also serve a great breakfast. Another great coffee shop is Maggies Farm on Morgen Street. The Australian café is open seven days a week and is serving breakfast, lunch, and amazing coffee in Downtown Jersey City.
Come for cozy vibes to 9 Bar Café on Greene Street. The Urby in Jersey City, where this coffee shop is located, is a residential tower and the tallest building in Jersey City. You will find more delicious coffee at LACKAWANNA COFFEE, The Grind Shop, and the Treehouse Coffee Shop. 
The Central Park of Jersey City
Insider: Relax at Lincoln Park
They call it the Central Park of Jersey City. It is a bit more far-out, so depending on where you're staying at, this could or couldn't be an option for you to take a break from the city life.
Lincoln Park is considered the oldest and largest of the Hudson County's Parks. Lincoln Park opened in 1905 and was originally known as West Side Park. It is safe to go to the park, however, we wouldn't recommend going there during the night, or when it is dark out.
Go for a run to the Newport Green Park
If you enjoy running, you should lace up and go for a run in Jersey City. There is a park called Newport Green Park right on the border to Hoboken. It's a little less than 2 miles away from the Goldman Sach tower in Jersey City. The scenery is beautiful and especially during the summer months, you will find folks relaxing in the park. The views of the New York City skyline will be incredible.
Keep the Hudson River to your right and pass by a cute little lighthouse called Lefrak Point Lighthouse near the Newport PATH train station. It's a beautiful run at any hour of the day.
Take pictures of the best street art in Jersey City
Walking around Jersey City, you will see a lot of street art. Artists from around the world have painted more than 130 pieces since 2013. The city has done a street art program in order to offset vandalism and graffiti. The Mural Arts Program was founded six years ago.
If you're wondering how to find the best murals in Jersey City, there's actually a website that provides a map with all the existing murals, their artists and much more information.
Check out the best Jersey City Hotels
Which hotels are the best ones to stay at in Jersey City? As mentioned before, over the years Jersey City has become more and more attractive to people visiting the Big Apple. The PATH offers tremendous convenience and connects both commuters and tourists to the city in a blink of an eye.
We had the chance to visit a couple of hotels in Jersey City to review them for you guys. These are the 5 best Jersey City Hotels for a New York trip on a budget with excellent views, PATH train station nearby and modern, spacious rooms.
Hyatt House Jersey City – This luxury Waterfront Hotel offers Manhattan Skyline Views and is located right by Exchange Place with connection to the PATH trains. Please read more about the Hyatt House in Jersey City in our full review of this excellent hotel.
Hyatt Regency Jersey City – Only one minute away from the Hyatt House, the 4-star Hyatt Regency in Jersey City is a little older but allows just the same romantic views of the city while enjoying free WiFi and a gym with an indoor pool.
The Westin Jersey City – Located near the Newport Mall the Westin Jersey City offers modern rooms, a great bar, and a restaurant. The Newport PATH train station into New York City is just a 3 minutes' walk away.
Residence Inn by Marriott – At the Residence Inn by Marriott in Jersey City guests will get mid-century modern spacious suites with full kitchens, hot complimentary breakfast, and free Wi-Fi. The hotel is right by Grove Street PATH Station.
Candlewood Suites – Very close to the Hudson River and a 5-minute walk from Exchange Place Candlewood Suites has outstanding reviews while being the most reasonable prices from all of the hotels we mentioned. The rooms come with a fully equipped kitchen which is a plus, especially when traveling on a budget.
Go Shopping in Jersey City
Jersey City has it all. Even a shopping mall. Just one block from the Newport PATH station, the Newport Centre Mall invites you to an amazing shopping experience on a three-level, 1.2 million-square-foot regional shopping center. With over 130 specialty stores as well as an 11-screen AMC cineplex and a variety of dining options on the upper level the Jersey City Mall is the best bet to go shopping in Jersey City. Inside the mall, you'll also find a Cheesecake Factory and a Zing Burger.
There are a few boutiques and second-hand stores on and near Grove Street like Another Man's Treasure Vintage Store, Mint Market, Kanibal & Co, and Love Locked.
Dine at the 10 best Jersey City Restaurants
Real estate is blossoming in Jersey City and whenever this is the case, so is the food culture. Jersey City has multicultural influences and can totally keep up with New York City. There is a reason why restaurants that are popular in Manhattan opening new locations in Jersey City such as DOMODOMO for instance.
From Korean, Indian, Filipino, Mexican, German and Cuban, in Jersey City, you have the choice. Since there are so many great restaurants in Jersey City, I will share my 10 absolute favorites that you should definitely give a shot when you're in town.
Taqueria Jersey City – There's always a line, but it's worth waiting because the tacos are delicious (236 Grove Street).
Porta Jersey City – Try the Pizza and come for a massive bar, beautiful rooftop seating and inviting long communal tables (135 Newark Ave)
Hamilton Pork – You will love it if you like a good BBQ. Hamilton Pork is a Texas BBQ restaurant with a nice Mexican touch to it (247 10th Street).
Gringos Tacos – Built inside an old mechanic and carpentry shop, locals come for great Mexican food, cocktails and good vibes (12 Coles Street)
DOMODOMO – Japanese inspired and a great spot for a date night. The restaurant is only 3 minutes walking distance from the Hudson River (200 Greene Street)
South House – Probably the best southern food and cocktails in town (149 Newark Ave).
Cellar 335 – Combine progressive American cuisine with Tiki Style Cocktails. I love the atmosphere at Cellar 335.
Ani Ramen  – By the best Ramen in Jersey City (218 Newark Ave).
Batello – Fancy, upscale restaurant near Newport right by the Hudson River (502 Washington Blvd).
Razza – There will always be a line, no reservations are possible, but it is the best Italian restaurant in Jersey City (275 Grove Street)
In case you're overwhelmed by all of your options, join the Jersey Girls Food Tour who will lead you on walking, guided food tours to highlight the best cuisine and restaurants Jersey City has to offer!
Enjoy the best view of NYC at the Rooftop at Exchange Place
Last but not least and one of my absolute favorite things to do in Jersey City is spending an evening at the Rooftop at Exchange Place. The views can't get better and more Instagrammable anywhere in Jersey City. Have a cocktail, or a glass of wine and soak in this clear view of the Empire State Building, One World Trade Center and the Statue of Liberty from one vantage point.
The rooftop bar in Jersey City is part of the Hyatt House but is welcoming both, guests of the hotel and those who don't spend the night there. The rooftop bar is indoors and outdoors and opens all year round. Saturday and Friday nights, there are special parties with a DJ, that you shouldn't miss. Believe it or not, but folks from Manhattan make their way to New Jersey to spend a night at the Rooftop at Exchange Place.
Nearby neighborhoods
If you enjoyed Jersey City, hop on the next light rail, or take an uber to Hoboken in New Jersey. Just like Jersey City, this hip and trendy neighborhood will amaze you with great cuisines, bars, stunning NYC views and so much more.
About the author
Sabrina
Calling New York City home is still pretty surreal. After moving here 5 years ago, I still see it as my dream life. Ever since I've been exploring this amazing city for Loving New York I've grown to love it even more. I love hooking all of you up with the inside scoop, top attractions, events and everything in between. I'm your go-to person for the hidden gems, best restaurants and the absolute best things to do in the city that never sleeps.
Did you like this article?