Dear Evan Hansen on Broadway
You will be found ... in the Music Box Theatre
·
Dieser Spot ist dauerhaft geschlossen.
Dear Evan Hansen is currently hands down one of the most popular musicals out there. It premiered on Broadway in December 2016 and since has won not only six Tony Awards (including for Best Musical), but also a Grammy Award for Best Musical Theater Album. We are not surprised and neither will you be!
You'll also love this:
Ticket information
See ticket
What is Dear Evan Hansen About?
Evan Hansen is an introverted high school senior that struggles with severe social anxiety. As part of his therapy he's encouraged to writing letters to himself starting with "Dear Evan Hansen, today is going to be a good day and here is why". As one of his letters gets into the hands of a classmate, unwillingly becomes the center of attention. Eventually, it seems that the tragic occurrence becomes his opportunity to finally fit in. The letter is the catalyst to a lie that he never meant to tell, changing not only his life significantly, but also those around him. In the end, everyone has to decide what's better for them, reality or perceived reality. 
The story of the Dear Evan Hansen musical was actually inspired by a real incident that took place during composer Benj Pasek's high school years.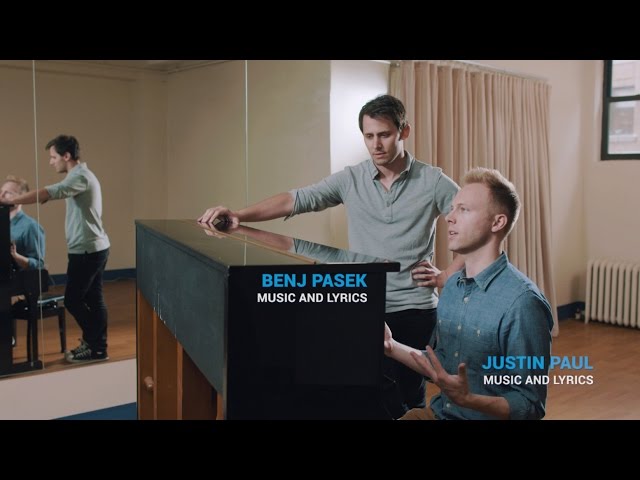 Dear Evan Hansen Tickets
Tickets for Dear Evan Hansen on Broadway are very popular and start around $120. Definitely make sure to purchase your tickets well in advance, as they do sell out quickly. As always, the best prices can be found online!
If you're on a tighter budget, you may want to consider watching a musical during the day. Especially if you are traveling to New York from a different time zone and suffering from a jet lag, matinees aren't a bad idea at all!
Matinee tickets are typically less expensive than night performances!
---
The Best Seats for Dear Evan Hansen on Broadway
The Music Box is a relatively small theater and you'll have great views from pretty much any seat. For the very best view though, we personally recommend sitting in the mezzanine section. Why? Seeing the musical from a bird's-eye view, we promise you'll get to appreciate the performances and its special effects even more (no spoilers!). If you choose orchestra seats, we typically recommend rows H to M, as you should never sit too close to the stage!
---
Dear Evan Hansen Review
Dear Evan Hansen on Broadway is the holder of six Tony Awards in the categories of Best Musical, Best Score, Best Book of a Musical, Best Actor, Best Featured Actress and Best Orchestrations. However, the success of the Musical goes beyond the Tony Awards, having earned a Grammy for Best Musical Theater Album.
With all the awards in mind, you may wonder who's behind the musical Dear Evan Hansen? That would be the American songwriter duo Benj Pasek and Justin Paul. Apart from creating incredible music for Dear Evan Hansen, they also were rewarded for their works in the Golden Globe-winning movie La La Land as well as The Greatest Showman Alive. Along with Alan Menken, they are now working on new music for Disney's Live action of Aladdin. You can see, Pasek and Paul prove true expertise at their job and manage to write the most amazing songs time and again.
Dear Evan Hansen Cast
In the original Dear Evan Hansen cast, the role of protagonist Evan Hansen was played by the amazing actor Ben Platt. Ben Platt has become famous for his roles in Pitch Perfect and even the Broadway Musical The Book of Mormon. As you may imagine, Dear Evan Hansen tickets skyrocketed right from the very beginning and even equaled those of Hamilton. The original Dear Evan Hansen cast members includes talented Laura Dreyfuss, well-known thanks to television series Glee and Rachel Bay Jones, who is already a star on New York's Broadway.
---
Dear Evan Hansen on Broadway: FAQ 
How much are tickets for Dear Evan Hansen?
Dear Evan Hansen tickets start at $89. Due to its popularity, the current average ticket price lies around $130.
What theater does Dear Evan Hansen play in?
The musical Dear Evan Hansen is performed in the Music Box Theatre on Broadway.
How long is the Dear Evan Hansen musical?
The total running time of Dear Evan Hansen is 2 hours and 30 minutes, including an intermission of 15 minutes.
Is Ben Platt in Dear Evan Hansen?
Ben Platt was the first actor to play the role of Evan Hansen in Dear Evan Hansen on Broadway. His final performance took place on November 19, 2018.
How to get to the Music Box Theatre?
The Music Box Theatre is located at 239W 45th St, on the same street as The Lion King and Moulin Rouge. If you are already in the Times Square area you can easily walk to the theater. It will not take you more than 3 minutes! Even if you are trying to get there from Penn Station, you'll be there within 15 minutes. If you come from further away, just hop on lines N R W to 49 St and you'll be almost there.
About the author
I'm a true New York fan! Not only have I visited the city over 25 times but also have I spent several months here at a time. On my blog I show you the best and most beautiful spots of the city, so that you have a really good time! You can also find lots of insider tips in our New York travel guide. Also check out my hotel finder for New York!
Did you like this article?