Village Halloween Parade in NYC – The Complete Guide for 2023
Village Halloween Parade NYC Guide to join the spookiest parade in the city
Steffen
14. September 2023
·
Add this and other places to your personal travel plan. We will then help you with further suitable suggestions: free of charge and straightaway!
It is probably the creepiest time of the year in the city that never sleeps. Halloween in New York has a unique atmosphere and we at Loving New York decided to be part of the popular Village Halloween Parade in NYC. More than 50,000 zombies, ghosts and other scary creatures hold a huge parade every year on October 31st.  Anyone can participate in the parade in NYC and all you need is a costume! 
You'll also love this:
When is the Village Halloween Parade in NYC?
The Village Halloween Parade will take place on October 31st, from 7 – 10:30pm. To be part of the parade (again, only in costume!) then you're going to meet up with all fellow participants a little earlier, at 6:30 pm, on 6th Ave at Canal St. You may even win the costume contest if your costume is creative enough! Prizes include tickets to great New York shows.
Is the NYC Halloween Parade free?
The Village Halloween Parade is totally free of charge. You can either just show up and watch the parade or even join the locals, get dressed and march with them.
How you can join the Halloween Parade in NYC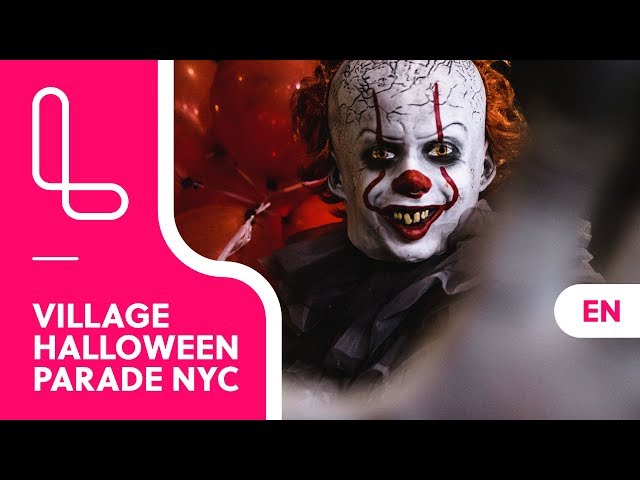 Not only is the NYC Halloween Parade free it is also possible for you to join it. In order to be a part of the parade make sure to be creative and wear a stunning costume. If you're not wearing a costume you won't be allowed to march. In case you're wondering which kind of costume you should wear, go check out one of the local Halloween stores for inspiration.
Meet up point to join the Halloween Parade in NYC is Sixth Ave at CANAL Street. You should arrive between 6:30 pm and 9 pm or you might miss the Parade.
Where does the Halloween Parade start?
The Village Halloween Parade in NYC will begin on the corner of Sixth Avenue and Spring Street and will run all the way to 16th Street in Manhattan. It is also the biggest Halloween parade in the country. The Village Halloween Parade in New York City takes over Lower Manhattan every year.
Where to watch the NYC Village Halloween Parade
Below you can see a map showing the entire parade route. If you want to see the parade as a spectator only, we recommend that you find a spot in the Village along Sixth Avenue and 14th Street (A train to '14th Street'). Take the A C E or 1 train to 'Canal St' station if you want to participate in the Halloween Parade!
The best place, in our opinion to watch the Village Halloween Parade is in the heart of the Village. We always tend to pick a location around W 4th Street. But if crowds are an issue, just pick a location towards the end of the parade.
Restaurants to go at the night Village Halloween Parade
After the parade, Halloween isn't over! Most bars in NYC will be celebrating Halloween as well. Here is a complete guide about the top 10 bars in New York where you could spend the evening! As it starts in one of our favorite neighborhoods, we included some dinner recommendations for you, so your hunger won't turn you into a real zombie!
Our recommendations include Black Tap and 12 Chairs. To find more variety, simply head to Macdougal St and check out the small restaurants and bars there. There are plenty of options for a sit-down dinner or just a quick bite!
About the author
I'm a true New York fan! Not only have I visited the city over 20 times but also have I spent several months here at a time. On my blog I show you the best and most beautiful spots of the city, so that you have a really good time! You can also find lots of insider tips in our New York travel guide. Also check out my hotel finder for New York!
Did you like this article?