Halloween in New York
·
Halloween in New York, the original Celtic custom is always celebrated on the last day of October. Every year in October, countless children in their favorite costumes go out on the streets of NYC go door to door, "scare" people and call out "Trick or Treat!"
You'll love this:
But, there's way more than just children running around when it comes to Halloween in New York. NYC is adorned with pumpkin head lanterns, house entrances are decorated to the point where it looks like it's from a horror movie and there are lots of crazy events and parades. In this article, we'll let you know where to celebrate Halloween, where you can buy the craziest costumes and where you can watch the annual Halloween Village Parade.
Halloween Decorations in New York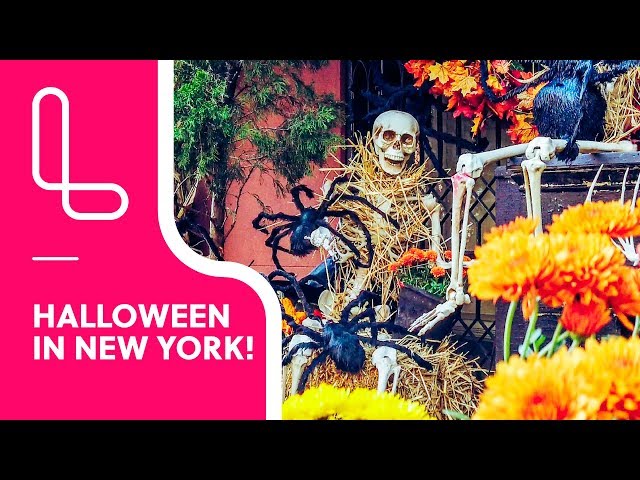 If you walk through certain neighborhoods during Halloween in New York, you'll notice that the houses and apartment buildings are decorated. Halloween decorations can range from one pumpkin on the stoop to full-blown "horror movie looking set-ups." If you want to see decorations, make sure to visit the Upper West Side, Upper East Side, and the West Village.
Creepy Halloween Costumes: Halloween in New York
Everyone will mostly be dressed up in different disguises. The best costumes can be found in the Abracadabra Superstore. The great thing is that you can borrow the costumes there as well. It's perfect if you don't want to keep a costume you bought or if you're a last-minute visitor.
Address: 19 W 21st St (between Fifth and Sixth Aves)
Get Halloween Make-Up in New York
Some people go as far as putting on make-up that goes with their costumes. Halloween in New York is intense and a lot of them go to Patricia Field.  She'll make you "Halloween ready." Normally, her salon is known for the beautiful women who leave the salon every day. Further information and dates you can read here online.
Address: 306 Bowery, (between Bleecker St. and E Houston St.)
---
Visit the Village Halloween Parade
The main event for Halloween in New York is New York's Greenwich Village Halloween Parade on October 31st. There are usually more than two million viewers. The parade was organized in 1973 and about 50,000 participants in costumes and bands ensure an unforgettable experience through the streets of New York. This is our number one tip in case you were wondering what can adults do for Halloween in New York.
The parade takes place at 6:30 PM on 6th Avenue and Spring Street. The actual start of the parade starts at 7 PM. If you want to have a good view of the spectacle, you should come early and secure a place along the route. The Village Halloween Parade ends north of 6th Avenue and 16th Street. Please note that many roads are closed during the parade and subways will be crowded.
It is very much worthwhile to watch this parade, especially if it's your first time experiencing New York City. The creativity of the participants is limitless!
Check out the haunted spots in NY
This custom is probably only celebrated in the US. During Halloween time, normal homes, shops or event halls are transformed into "Haunted Houses." This is certainly not for the faint of heart.
Depending on the haunted house, guests enter the house with just a flashlight or sometimes with nothing at all. The house turns into a maze and guests are instructed to find the exit. The fun part is that you'll be met with live actors that are dressed in scary costumes and sometimes you'll be chased by some with chainsaws. Sounds fun right? Here is all the information about the most popular Haunted Houses in NYC .
Also, did you know you could go into the catacombs of the St. Patrick's Cathedral? During the New York Catacombs by Candelight tour, you'll go behind-the-scenes at the Basilica of St. Patrick's Old Cathedral and see parts of the church that are otherwise off-limits to visitors.
This, by the way, is another great thing to do for adults during Halloween in  New York.
The best Ghost Tours in New York City
This is for you aspiring ghost hunters. Make sure to check out the "Ghosts of Greenwich Village." This tour is one of the best ghost tours in New York City. It's a very nice introduction to get you ready for Halloween in New York and at the same time, you'll take a trip into the spooky past of the city.
You will be guided on the English speaking tour mainly in Greenwich Village and experience scary, historical backgrounds of the area. Discover NYC's dark side. Here are a few other great tours to do during Halloween in NYC.
The Lights on the Empire State Building during Halloween
The Empire State Building is known to light up in different colors depending on what's going on in the world. on October 31st the building delights New Yorkers with a Halloween LED show.
There's a lot of things going on during Halloween in New York and these are just some of our favorites.
What can adults do for Halloween?
Besides everything that I just mentioned above, there are a couple of other great things to do for adults during Halloween in New York. If you're into Broadway Shows, the spookiest one is Phantom of the Opera. It's also the longest playing show on  Broadway and an absolute classic.
The Annual Pumpkin Flotilla
Especially if you are celebrating Halloween in New York with kids, one of the best events for you to attend is the Pumpkin Flotilla in Central Park. Every year on the day before Halloween, Central Park offers lots of fun activities for kids, including pumpkin carving, spooky storytelling, and a Halloween Parade.
Here you find everything you need to know about the Annual Pumpkin Flotilla NYC.
About the author
Steffen
I'm a true New York fan! Not only have I visited the city over 20 times but also have I spent several months here at a time. On my blog I show you the best and most beautiful spots of the city, so that you have a really good time! You can also find lots of insider tips in our New York travel guide. Also check out my hotel finder for New York!
Did you like this article?