11 Amazing Things To Do for Chinese New Year in NYC
·
Add this and other places to your personal travel plan. We will then help you with further suitable suggestions: free of charge and straightaway!
Chinese New Year (a.k.a. Lunar New Year) in NYC is a huge deal. There are loads of events going on for Chinese New Year throughout the city. Here are the things to do on Chinese New Year in New York City we can recommend!  
You may also like
Chances are you've heard of Chinese New Year. But when does Chinese New Year take place? Actually, it differs every year. In 2023, it starts on January 22nd and lasts until February 12th. Since it is based on the lunar calendar, Chinese New Year always has a different date every year. 2023 is considered to be the year of the rabbit.
When is Lunar New Year 2023?
The Chinese New Year falls on Sunday, January 22, 2023. It is the year of the rabbit.
The Best Things to Do on Chinese New Year
01

The New York Philharmonic Lunar Concert (January 31, 2023)

Other Art & Culture

in

Midtown Manhattan

Enjoy the New York Philharmonics which will be conducted by Earl Lee. Here you find more information about the Lunar New Year concert.

02

Join the Chinese New Year Parade on February 12, 2023!

Other Events

in

Chinatown

Usually, locals and tourists alike will (obviously) flock to New York City's Chinatown to celebrate the Lunar New Year. A huge Chinese New Year Parade takes place there every year. The official name of the event is called the Lunar New Year Parade and Festival.

The Chinese New York Parade will down Mott and Canal Street. It will then make its way down East Broadway and head towards Manhattan Bridge, and it will ultimately end at Sara D. Roosevelt Park. During the parade, there will also be smaller activities going on in Chinatown NYC. It will have all sorts of street vendors and festivities.

We just want to mention that there will also be other Lunar New Year events held at neighboring Chinatown's in NYC. Manhattan isn't the only Chinatown in New York City. There's one in Sunset Park in Brooklyn and Flushing in Queens.

03

Lunar New Year Family Festival at The Museum of Chinese in America on January 21, 2023

The Museum of Chinese in America is the place to go if you want to learn more about the Chinese culture and Chinese history in NYC. The main and permanent exhibition With a Single Step: Stories in the Making of America is a great place to find out more about the last 160 years of Chinese history in NYC. With 2+ rotating exhibitions on top of this, the MoCa is definitely worth a visit.

Kick off the Year of the Rabbit with an afternoon of festivities for the whole family at the museum!

04

Celebrate Chinese New Year at The Met Museum on January 21, 2023

Museum

in

Upper East Side

Our Highlight

A visit to the Metropolitan Museum in New York (The MET) is more than just an ordinary visit to an art museum. With more than 2 million artworks that span from more than 5,000 years, visitors will soon realize this institution is very special. Exhibits are spread out over 2,000,000 square feet of floor space. That makes it the largest art museum in the United States. The museum is a must-visit and is perfect for families with kids. The Metropolitan Museum of Art presents the best of art history from around the world.

Chinese New Year starts a little later than ours. In 2023 we celebrate the Year of the Rabbit . The rabbit is one of twelve animals of the Chinese zodiac. The beginning of the Chinese New Year is celebrated properly in the Met. In addition to performances, there will be interactive offerings as well as workshops led by artists. There is something for all ages!

Registration is not required and all activities are included in the museum admission.

My tip: Here you find all information regarding the Lunar New Year event at The Met.

05

Celebrate Lunar New Year at Hudson Yards (January 17 to February 6, 2023)

Other Events

in

Hudson Yards

In 2023, the Shops at Hudson Yards will celebrate the Chinese Lunar New Year. In addition to great deals at participating retailers like Pandora and Ray-ban, there will also be free cultural performances in collaboration with the New York Chinese Cultural Center on three Saturdays (Jan. 21 & 28 and Feb. 4) at 1 p.m., 3 p.m. and 5 p.m. in the Great Hall on Level 1.

Make your shopping trip an unforgettable experience among Chinese dances and traditional decorations!

06

Celebrate Chinese Cuisine

Asian Restaurant

in

Chinatown

Chinatown in NYC is a foodie's dream. There are restaurants everywhere and almost all of them serve some of the best food in the area. With so many choices, we obviously have our favorites. For a "no-frills" experience make sure to check out one of the most popular restaurants, Great NY Noodletown. Before you go, make sure to bring cash since the restaurant does not take cards. You definitely should try their noodles and also their barbeque items. Another great thing about this restaurant is that it is open super late.

If you want more of an upscale restaurant, make sure to check out Mission Chinese in Manhattan NYC. This restaurant first started out in San Francisco and has expanded to Chinatown in Manhattan and Brooklyn. It's a very popular restaurant that attracts a trendy crowd. Prices are comparable to Midtown prices, but the food here is definitely worth the visit.

If you're into dim sum, then Nom Wah Tea Parlor is the place to go. Just to give you a heads up, you're definitely going to encounter a line so be prepared to wait. Located in the famous bloody angle, Nom Wah Tea Parlor has been in business since 1920. Not much has changed since then besides a move right next door to their original spot. The interior hasn't changed much as well and still has a vintage feel to it. As far as their menu, it's considered one of the best in the area. Make sure to check them out.

07

Visit the Lunar New Year Photo Exhibition at Flushing Town Hall (Jan. 21 - Feb. 26, 2023)

Other Art & Culture

in

Flushing

The Flushing Council on Culture and the Arts (FCCA) is dedicated to presenting multidisciplinary, global arts that engage the global communities of Queens, New York, and New York City. It regularly hosts exhibitions and events – including Lunar New Year.

This year's exhibition This Is Home tells the stories of the AAPI community in New York City and abroad. Among other things, it's about how they live and work, but also how they love and stand up for their beliefs.

Click here for more information.

08

Kick off Lunar New Year with Firecrackers on January 22, 2023

Other Events

in

Lower East Side

This year the Chinese Lunar New Year begins on January 22. In China, firecrackers are used to banish evil and so the Year of The Rabbit will be ceremoniously kicked off at Sara D. Roosevelt Park with the 25th New Year Firecracker Ceremony & Cultural Festival.

09

Celebrate Lunar New Year at South Street Seaport Museum (January 21 & 22)

Museum

in

Financial District

The South Street Seaport Museum is also celebrating Chinese New Year with a variety of free events. It starts with a Chinese lion dance and afterwards you can participate in different activities, for example in a Chinese calligraphy workshop.
On the homepage of the Seaport Museum you can find more information about the Lunar New Year celebrations.

10

Watch lion dance performances at Queens Botanical Garden on January 28

For everyone who prefers to celebrate surrounded by nature: you can also celebrate the Lunar New Year at Queens Botanical Garden! Celebrate Chinese New Year with various demonstrations or buy some lucky plants.
The event is free, but a voluntary donation will support the maintenance of the Botanical Garden.

Click here for more information about Lunar New Year at Queens Botanical Garden.

11

A Chinese New Year Concert with The Orchestra Now on January 28

Other Events

in

Upper West Side

For the fourth year, the annual THE SOUND OF SPRING – A Chinese New Year Concert with The Orchestra Now will take place in New York City in 2023. The authentic Chinese New Year Concert in the Rose Theater of Jazz at Lincoln Center's Frederick P. Rose Hall showcases the wonderful diversity of Chinese symphonic music. In addition to traditional sounds, contemporary music is reflected here.

Don't miss this popular concert full of enchanting sounds and celebrate Chinese New Year in a very special way.
Impressions of Chinese New Year in NYC
Video: The Lunar New Year and Festival in Chinatown NYC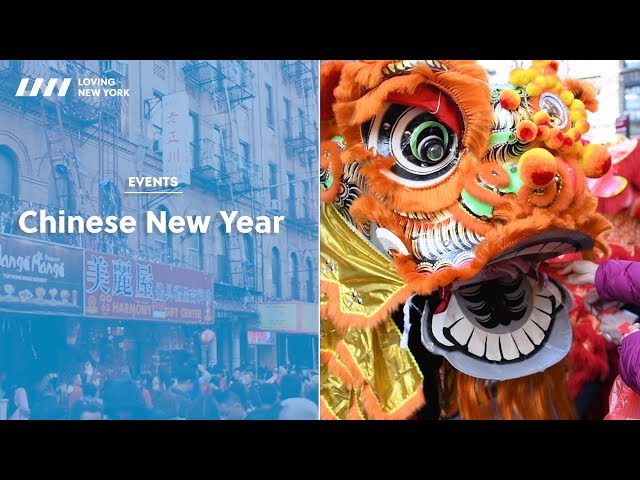 About the author
Tino
After coming here for the first time 13 years ago, I still see it as my dream city. Ever since I've been exploring this amazing city for Loving New York I've grown to love it even more. I love hooking all of you up with the inside scoop, top attractions, events and everything in between. I'm your go-to person for the hidden gems, best restaurants and the absolute best things to do in the city that never sleeps.
Did you like this article?