9 Amazing Things To Do for Chinese New Year in NYC
·
Add this and other places to your personal travel plan. We will then help you with further suitable suggestions: free of charge and straightaway!
Chinese New Year (a.k.a. Lunar New Year) in NYC is a huge deal. There are loads of events going on for Chinese New Year throughout the city. Here are the things to do on Chinese New Year in New York City we can recommend!  
You may also like
Chances are you've heard of Chinese New Year. But when does Chinese New Year take place? Actually, it differs every year. In 2021, it lasts 16 days, starting from February 11th and lasting until February 26th. Since it is based on the lunar calendar, Chinese New Year always has a different date every year. 2022 is considered to be the year of the tiger.
When is Lunar New Year 2022?
Chinese New Year 2022 will take place on Tuesday 1 February.
The Best Things to Do on Chinese New Year
01

The New York Philharmonic Lunar Concert

Other Art & Culture

in

Midtown Manhattan

Enjoy the New York Philharmonics on February 8th which will be conducted by Earl Lee. For more information the event please visit their website here.

02

Lunar New Year Celebration at Bank Of America Winter Village at Bryant Park

Other Events

in

Midtown Manhattan

Bank of America Winter Village at Bryant Park is ringing in Lunar New Year! The celebration for the Year of the Tiger kicks off on February 1 with a Chinese lantern display in Bryant Park, which will remain in the park up through our celebration on Sunday, February 6. On February 6 at 3pm, Bank of America Winter Village at Bryant Park will showcase an exciting lion dance performed by the New York Chinese Cultural Center. This traditional dance is performed to bring good fortune and prosperity to viewers of all ages. The dance will begin at the Northwest corner of the Rink Deck. Guests can also make a wish at our wishing tree station from 2-4pm.

03

Chinese New Year Parade

Other Events

in

Chinatown

Usually, locals and tourists alike will (obviously) flock to New York City's Chinatown to celebrate the Lunar New Year. A huge Chinese New Year Parade takes place there every year. The official name of the event is called the Lunar New Year and Festival.

The Chinese New York Parade will down Mott and Canal Street. It will then make its way down East Broadway and head towards Manhattan Bridge, and it will ultimately end at Sara D. Roosevelt Park. During the parade, there will also be smaller activities going on in Chinatown NYC. It will have all sorts of street vendors and festivities.

We just want to mention that there will also be other Lunar New Year events held at neighboring Chinatown's in NYC. Manhattan isn't the only Chinatown in New York City. There's one in Sunset Park in Brooklyn and Flushing in Queens.

04

Museum of Chinese in America (MoCA)

The Museum of Chinese in America is the place to go if you want to learn more about the Chinese culture and Chinese history in NYC. The main and permanent exhibition With a Single Step: Stories in the Making of America is a great place to find out more about the last 160 years of Chinese history in NYC. With 2+ rotating exhibitions on top of this, the MoCa is definitely worth a visit.

05

Chinese New Year at The Met Museum

Museum

in

Upper East Side

Our Highlight

A visit to the Metropolitan Museum in New York (The MET) is more than just an ordinary visit to an art museum. With more than 2 million artworks that span from more than 5,000 years, visitors will soon realize this institution is very special. Exhibits are spread out over 2,000,000 square feet of floor space. That makes it the largest art museum in the United States. The museum is a must-visit and is perfect for families with kids. The Metropolitan Museum of Art presents the best of art history from around the world.

My tip: Here you find all information regarding the Lunar New Year event at The Met.

06

Celebrate Lunar New Year at Hudson Yards

There are several great events at Hudson Yards for Lunar New Year. Be sure to check out the Lunar New Year Performances from the New York Chinese Cultural Center, which will be performed 3 times a day!

January 29, 2022 – February 13, 2022
Performance Times: 1 pm, 3 pm and 5 pm

 

07

Ring in the Year of the Tiger at Brookfield Place!

Mall

in

Battery Park City

The small shopping centre in Brookfield Place should not be forgotten. You also have a wonderful view of the water and the yachts in North Cove Yacht Harbor.

08

Celebrate Chinese Cuisine

Asian Restaurant

in

Chinatown

Chinatown in NYC is a foodie's dream. There are restaurants everywhere and almost all of them serve some of the best food in the area. With so many choices, we obviously have our favorites. For a "no-frills" experience make sure to check out one of the most popular restaurants, Great NY Noodletown. Before you go, make sure to bring cash since the restaurant does not take cards. You definitely should try their noodles and also their barbeque items. Another great thing about this restaurant is that it is open super late.

If you want more of an upscale restaurant, make sure to check out Mission Chinese in Manhattan NYC. This restaurant first started out in San Francisco and has expanded to Chinatown in Manhattan and Brooklyn. It's a very popular restaurant that attracts a trendy crowd. Prices are comparable to Midtown prices, but the food here is definitely worth the visit.

If you're into dim sum, then Nom Wah Tea Parlor is the place to go. Just to give you a heads up, you're definitely going to encounter a line so be prepared to wait. Located in the famous bloody angle, Nom Wah Tea Parlor has been in business since 1920. Not much has changed since then besides a move right next door to their original spot. The interior hasn't changed much as well and still has a vintage feel to it. As far as their menu, it's considered one of the best in the area. Make sure to check them out.

09

Visit the Lunar New Year Exhibition

Other Art & Culture

in

Flushing

The Flushing Council on Culture and the Arts (FCCA) is dedicated to presenting multidisciplinary, global arts that engage the global communities of Queens, New York, and New York City. It regularly hosts exhibitions and events – including Lunar New Year.

Click here for more information.
Impressions of Chinese New Year in NYC
Video: The Lunar New Year and Festival in Chinatown NYC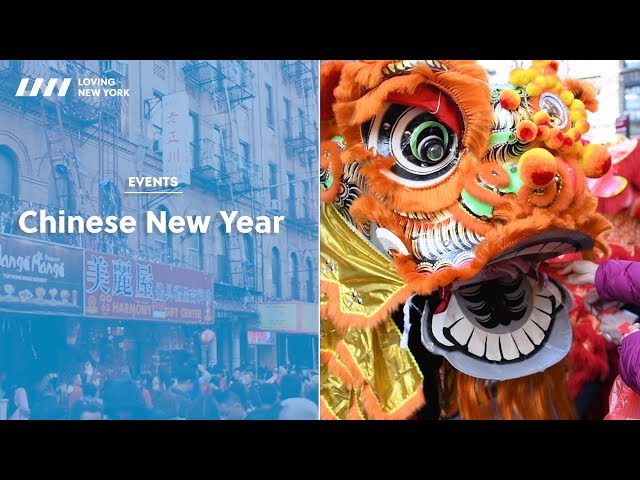 About the author
Tino
After coming here for the first time 13 years ago, I still see it as my dream city. Ever since I've been exploring this amazing city for Loving New York I've grown to love it even more. I love hooking all of you up with the inside scoop, top attractions, events and everything in between. I'm your go-to person for the hidden gems, best restaurants and the absolute best things to do in the city that never sleeps.
Did you like this article?