Amazing Halloween Decorations in New York
·
Add this and other places to your personal travel plan. We will then help you with further suitable suggestions: free of charge and straightaway!
As Halloween is fast approaching, New Yorkers will soon begin decorating their houses, apartment buildings, and brownstones into spooktacular works of art. From spider webs and skeletons to ghosts, graveyards, and other frightful things, New York does not disappoint with scary decor. 
You'll love this:
And with children and families anxious to display their holiday "spirit," this makes it the perfect time to take a drive or stroll through some of the city's best places to see the sights.
So, check out our list of the best places for Halloween decorations NYC
Upper East Side
The Upper East Side is famously residential, so what better place to start? In fact, this neighborhood has a long-standing history of being one of the best places to see Halloween decorations in the city. 
There's no doubt you can walk aimlessly for hours in the Upper East Side, but to make your trek easier, check out these stops:
East 62nd between Second Ave and Third Ave
East 67th Street between Madison and Fifth Ave
East 70th Street between Lexington and Park
East 71st between Madison and Fifth Ave
East 72nd between Park and Madison
East 74th between Park and Madison
East 77th Street between Second Ave and Third Ave
If you're looking for a haunted house in the Upper East Side, be sure to check out the one on 72nd Street. Just keep in mind that it gets very crowded!
Chelsea, NYC
Another great place to find Halloween decorations NYC is in Chelsea. Check out the Chelsea Market first, which pulls out every stop for Halloween. The complex is decorated with vignettes and spooky scenes throughout; just be warned that some of them are rather gruesome and can scare small children. After you see the ground level, don't forget to head down to the basement, where you'll find beautifully displayed and intricately carved pumpkins at Chelsea Local, the grocery store. 
Then, drive over to 314 W. 22nd St, Chelsea, Manhattan, where you'll find Barb Salzman's apartment building. She is an art installer by trade but is known for having the most festive Halloween decorations on the block. Each year she features a different theme for her massive peace sign and other decorations that she places out front of her building. 
West Village
Strolling through West Village is like being transported into Halloweentown. Nearly every home you pass has some sort of decor. Expect to find a lot of pumpkins, ghosts, spider webs, witches, ghouls, goblins, and more. 
This is a wonderful option if you're looking for a great place to take the kids trick or treating in NYC! Just wear comfortable shoes and get there early to secure parking. 
Video: Halloween Decorations in New York
Halloween Decorations in NYC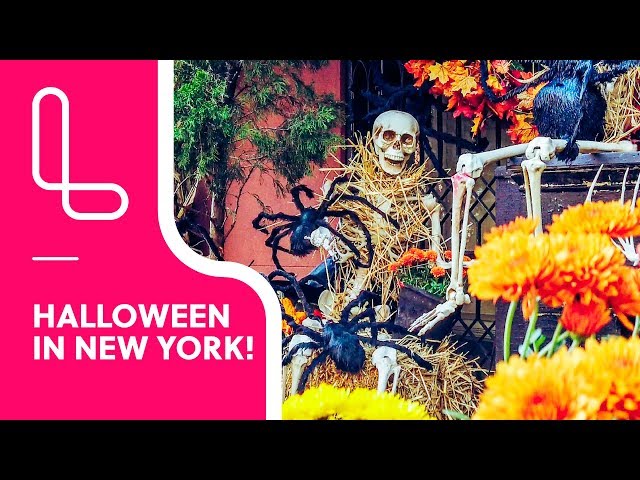 Seaport District
Walking along the East River, you will find Pier 17 in the Seaport District. While this neighborhood is known for its nice restaurants and ferries, it's also a great place to find one of the most unique Halloween decorations in NYC.
The annual pumpkin arch is placed just in front of the river and makes for an excellent backdrop for pictures!
Upper West Side
The Upper West Side is a top option for those looking for over-the-top Halloween decorations in NYC. Perhaps the best part is you have many streets that are known for participating in this spine-chilling fun.
If you plan to check out this neighborhood, put these stops on your list:
West 94th Street
West 87th Street
West 82nd Street
West 81st Street
Greenpoint, Brooklyn
At 931 Manhattan Ave, Greenpoint, Brooklyn, you'll find Dawn Eldridge's French restaurant and bar called Citroën. Dawn knew that New Yorkers were miserable following all of the COVID protocols and restrictions, so she created her very own tradition to instigate some fun. 
Grab a bite to eat and check out her cobwebs, skulls, bloody flour footprints, dog's skeleton, and cursed photos. You'll also enjoy sipping on her Halloween-themed drinks that are even served in skull vessels. Given that Citroën features a 1920s French theme – white tile walls, dim lighting, and vintage fixtures – the spookiness has an authentic feel, so these are Halloween decorations NYC that you don't want to miss!
Cobble Hill, Brooklyn
The last neighborhood on our list of the best Halloween decorations NYC is Cobble Hill. Sure, this area is already home to many gorgeous houses, but the residents go all-in on Halloween. You'll find everything from bats and black cats to monsters and spiders! This is a favorite for adults and children alike!
Astoria, Queens
Every year at her Astoria, Queens, home, Vicky Poumpouridis, a local divorce attorney, doesn't waste one inch of space with her Halloween decorations. Here you'll find life-sized replicas of legendary horror characters such as Freddy Krueger, Michael Myers, Jason Voorhees, and more.
Vicky, along with help from her mother and sister, spends three days setting up this elaborate display. You can expect to see ghosts and goblins popping out of her second-floor windows, illuminated creepy crawlies, and maybe even a real jump-scare as someone dressed as Michael Myers jumps out of the bushes!
Poumpouridis also spends $1,000 on Halloween candy each year, so this is also an excellent place to take the kids for some tricks and treats.
This home is located at 26-18 Ditmars Blvd, Astoria, Queens.
About the author
Steffen
I'm a true New York fan! Not only have I visited the city over 20 times but also have I spent several months here at a time. On my blog I show you the best and most beautiful spots of the city, so that you have a really good time! You can also find lots of insider tips in our New York travel guide. Also check out my hotel finder for New York!
Did you like this article?