Frozen on Broadway
Undeniably the coolest musical on Broadway
·
Dieser Spot ist dauerhaft geschlossen.
There is no doubt that Frozen on Broadway is popular among children. If you're looking for a Broadway show to attend with your kids, chances are you'll choose a Disney adaptation! After watching it, however, we concluded that the musical is just as popular among adults! 
You'll also love this:
Ticket information
See ticket
What is the Musical Frozen About?
The Frozen Musical is a stage adaption of Disney's animated movie and box-office hit of the same name from 2013.
Frozen is a story about sisterly love. 8-year-old Elsa has magic powers: Anything she touches turns into ice, frost or snow. The fact that she cannot control her powers, turn them into a curse, rather than a blessing. In order to protect her fellow human beings, most of all her sister, Elsa lives confined by her powers, locked away in a castle. But her sister Anna does not know about Elsa's powers and is left puzzled by their estrangement. The two sisters used to be inseparable.
When their parents die in a tragic accident, it's time for Elsa to step outside and become the new queen. Instead, she decides to run away. With the help of Olaf the Snowman, Anna goes searching for her beloved sister.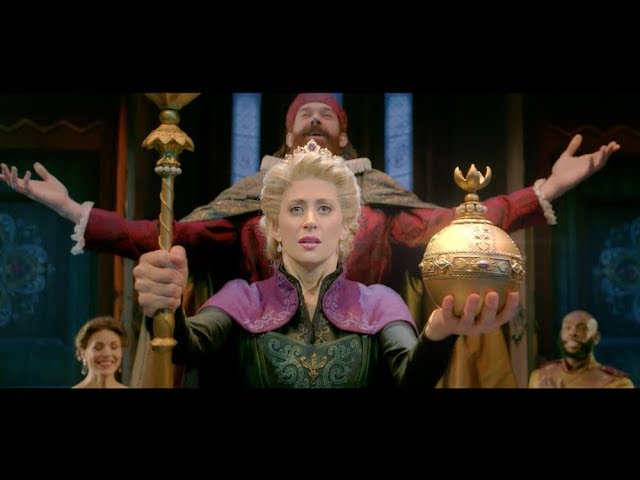 Frozen Tickets
Frozen tickets start at $57 and we encourage you to secure your tickets in advance, as the show is very likely to be sold out. You can choose from 8 performances each week, including 3 matinee performances, which we highly recommend if you're attending with kids!
Check Availability
---
The Best Seats for Frozen on Broadway
If you want to watch Frozen on Broadway, we recommend avoiding the first row of Mezzanine when attending the show with kids. It may be the case that they are too small to look over the reeling comfortably. You'll be much happier with Orchestra seats in St. James Theatre.
Color Code:
great views

good views

average views

okay views
---
Frozen Review
Frozen has been nominated for three Tony Awards, but unfortunately didn't get to take home any. Even without a Tony Award, this Disney Broadway musical has been popular right since its debut in 2018 and more often than not, has sold out shows. The highlight of the musical is the performance of "Let it go". It is guaranteed to give you chills!
Frozen Cast
The original Frozen Broadway cast includes Caissie Levy as Elsa, Patti Murin as Anna and Greg Hildreth as Olaf the Snowman. You can look up the full cast on FrozenTheMusical.com.
The original and most popular song of the musical "Let it go" was originally sung by Idina Menzel, who became popular for her role of Elphaba in Wicked. We promise that Caissie sings it just as well. Caissie has also played the role of Elphaba in Wicked before.
---
Frozen on Broadway: FAQ
How much are Frozen tickets?
The cheapest Frozen tickets are being sold starting at $57. The closer you get to the date of performance however, the more you can expect ticket prices to rise.
Who's playing Elsa in Frozen?
Elsa in Frozen is being played by Caissie Levy. Before, she's also played Elphaba in Broadway's Wicked.
Is Frozen on Broadway kid-friendly?
Yes! Frozen is one of the best musicals on Broadway for families. However, the musical is intended for children ages 8+ and not recommended for children under the age of 4.
How to Get to St. James Theatre?
St. James Theatre is located at 246 W 44th St. To get there, hop on subway lines A C E and get off at 42 St – Port Authority Bus Terminal. From there, it'll be less than 5 minutes to get to the St. James Theatre
About the author
Steffen
I'm a true New York fan! Not only have I visited the city over 20 times but also have I spent several months here at a time. On my blog I show you the best and most beautiful spots of the city, so that you have a really good time! You can also find lots of insider tips in our New York travel guide. Also check out my hotel finder for New York!
Did you like this article?