Wicked on Broadway
The untold story of the Witches of Oz
·
Add this and other places to your personal travel plan. We will then help you with further suitable suggestions: free of charge and straightaway!
Wicked on Broadway has been casting a spell over its audience since 2003. Based on the 1995 novel by Gregory Maguire, the musical tells a magical story about friendship. Since its debut, the Broadway show has won three Tony Awards and is now the second-highest-grossing show behind The Lion King.
You'll also love this:
Ticket information
See ticket
What is the Musical Wicked About?
Wicked is a prequel to the famous story of  The Wizard of Oz. It tells the story of two young sorcery students who could not be any more different from each other. One one side we have Elphaba – a smart, green-skinned girl that struggles to fit in. On the other side, we have Glinda – the blonde, popular girl. Despite their differences, the two witches grow a profound friendship. In the famous song "defying gravity" Elphaba explains that she is "through with playing by the rules of someone else's game". She needs to be true to herself and leave. Both girls go their own way from here: Elphaba eventually becoming the notorious Wicked Witch of the West, and Glinda becoming Glinda the Good.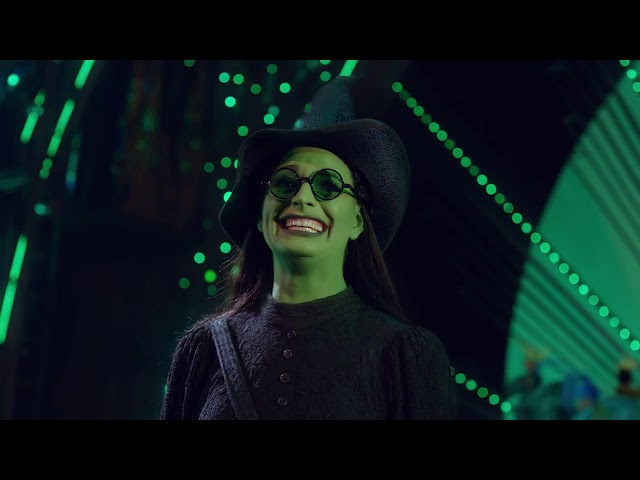 ---
Wicked Tickets
Tickets for Wicked on Broadway can be very affordable. They start at $89, which is a great price if you compare it to Broadway musicals like Hamilton or plays like Harry Potter and the Cursed Child. The fact that Wicked has been on Broadway for more than 15 years already shows its remarkable popularity – even today.
You have 8 chances each week to watch Wicked on Broadway. As most Broadway shows, Wicked stays closed on Mondays. Each performance lasts 2 hours and 45 minutes, includes one intermission.
---
The Best Seats for Wicked on Broadway
The sweet spot in the Gershwin Theatre is Orchestra rows BB – F. If Orchestra is booked out for your date, go for Mezzanine instead of the far sides of Orchestra. You can never go wrong with front Mezzanine seats. As the Gershwin Theatre is the largest one on Broadway, you should try to avoid seats far in the back.
---
Wicked Review
Wicked is a must-see on Broadway. Being the first Broadway musical I've ever watched, Wicked will always have a special place in my heart! We even had the opportunity to go backstage before the show to see the dressing rooms and also set foot on the stage. That experience can never be topped!
But even looking at it objectively, the musical is one of the best shows on Broadway, providing a suspenseful storyline, amazing actors, a stunning set as well as entertaining songs. The dramatic blockbuster is yet filled with funny moments that will capture your attention until the very last minutes! It's a musical suited for all ages. You're guaranteed to be bewitched!
Wicked Broadway Cast
The original Wicked Cast includes Idina Menzel as Elphaba, Kristin Chenoweth as Glinda and Joel Grey the Wizard of Oz. Most noteworthy of all is Idina Menzel. She is a legend in the industry, having played the role of Maureen in Broadway's Pulitzer Prize awarded musical RENT as well as roles in the musical TV series Glee and several Disney adaptations.
Did you know that Idina also plays the voice and sings the original songs of Elsa in Disney's Frozen?
---
FAQ
How old do you have to be to see Wicked on Broadway?
The minimum age to watch Wicked on Broadway is 5 years. Every child must have a ticket.
Is Wicked still on Broadway?
Yes! Even though it premiered back in 2003, the musical Wicked is still on Broadway. Why? Because it's too good and popular to end it! Over the years it has become a Broadway classic.
How much are Wicked tickets?
The face value of Wicked tickets is $89.
Do you need to know the Wizard of Oz in order to watch Wicked?
No! Wicked is the prequel to the Wizard of Oz, meaning you don't necessarily need any prior knowledge. Nevertheless, you can expect some references.
Who is playing Glinda in Wicked?
On January 10th, 2019, Brittney Johnson became the first black woman to play Glinda since Wicked debuted on Broadway in 2003.
Where is Wicked playing?
The musical Wicked is playing in New York's Gershwin Theatre. With a capacity of 1,933 seats, Wicked's Gershwin Theatre is the largest theater on Broadway! Shows are basically sold out on a daily basis.
How to get to Gershwin Theatre
The Gershwin Theatre is located at 222 W 51st St, on the Northern part of Broadway. Take subway lines 1 2 to 50 St Broadway or, if more convenient, A C E to 50 Street Subway Station. From either of those stations, you'll only have to walk about 2 minutes to arrive at the theater. Make sure to be there at least 15 minutes early. Broadway is very strict about latecomers.
About the author
I'm a true New York fan! Not only have I visited the city over 25 times but also have I spent several months here at a time. On my blog I show you the best and most beautiful spots of the city, so that you have a really good time! You can also find lots of insider tips in our New York travel guide. Also check out my hotel finder for New York!
Did you like this article?