The 24 Best Christmas Lights and Decorations in NYC
Where To See Christmas Decorations In New York
·
During the holiday season, electric bills skyrocket all throughout New York City. Seeking to outdo one another, both private homes and established landmarks string up dazzling lights for you to marvel at in every direction you turn. Here's where to go to see the most stunning New York Christmas Lights.
You'll also love this:
Spending Christmas in New York is really special – decorations and lights in the city remain unparalleled. The best way to explore the magic is by taking a guided tour. Find out which of the many New York Christmas Lights tours we personally recommend this year – we've done those ourselves!
Here I show you the most beautiful Christmas Trees, Holiday Windows, Light Shows and Christmas Light Festivals!
The Best New York Christmas Lights Tours for 2023
There are six Holiday Light tours in New York we can recommend. Each of them is a little different: some are bus tours, others are walking tours; some take place in Brooklyn, others in Manhattan. See the details for yourself to decide which ones of the New York Christmas lights tour is best for you.
Bus Tour & Walking Through Dyker Heights

Bus Tour & Walking Through Dyker Heights

December 1, 2023 – January 1, 2024

November 25, 2023 – December 30, 2023

December 1, 2023 – December 30, 2023

December 2, 2023 – December 23, 2023

December 1, 2023 – January 5, 2024

December 1, 2021 – December 30, 2022

November 30, 2022 – January 1, 2023

Rockefeller Center, Manhattan

Pick up from any location in NYC

The Shops at Columbus Circle, Manhattan

Times Square Hotel
Manhattan

Dyker Heights
Brooklyn Bridge
Bryant Park Winter Village

St. Patrick's Cathedral
Rockfeller Center
Radio City Music Hall
Bryant Park Winter Village
Fifth Avenue
Macy's

You can stop wherever you like, e.g.:

Dyker Heights
Brooklyn Bridge
St. Patrick's Cathedral
Rockfeller Center
Radio City Music Hall
Bryant Park Winter Village
Fifth Avenue
Macy's

4 different holiday markets
St. Patrick's Cathedral
Rockfeller Center
Radio City Music Hall
Bryant Park Winter Village
Fifth Avenue
Macy's

Dyker Heights
Brooklyn Bridge

Dyker Heights
Brooklyn Bridge

Dyker Heights
Brooklyn Bridge 
Christmas Tree at Rockefeller Center
The Christmas lights tours in Brooklyn focus around Dyker Heights (here is our guide to Dyker Heights Christmas Lights). The festive neighborhood showcases the most popular Christmas decorations in NYC by far. Needless to say, the tours here are also the most popular holiday lights tours in New York. Coming here, you have the option to explore the festive neighborhood on foot or by bus.
The Christmas lights tours in Manhattan are both small-group walking tours that will show you the most beautiful Christmas lights New York has to offer. The longer holiday lights tour also includes New York's most iconic Christmas markets. During the walk, you will learn interesting facts about each landmark that will make you appreciate the lights even more. Of course, there will be plenty of time to take photos and drink hot cocoa, too!
Any of these NYC Christmas lights tours offers you a magical experience. Your choice mainly depends on whether you want to stay in Manhattan or head to Brooklyn and whether you want to walk or go by bus!
My Video About the Best Christmas Lights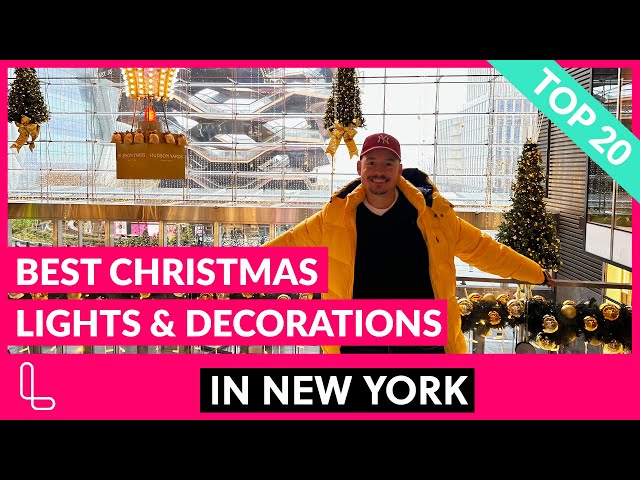 Amazing Places To See Christmas Decorations & Christmas Lights In New York
Every year, the holiday spirit takes over all five boroughs of New York. Though all Christmas decorations in NYC are beautiful, some are a little more impressive than others which is why we have picked out the absolute best places to see New York Christmas lights for you.
My Personal Favorites
01

From Manhattan: Dyker Heights Christmas Lights Bus Tour

Bus Tour

in

Dyker Heights

Our Highlight

Since the tradition's inception in the 1980s, this Brooklyn neighborhood's decorations have become bigger and brighter every year. Now Dyker Heights is famous for its spectacular, over-the-top holiday decorations and attracts thousands of visitors every year. Strolling through the streets, passing one house after the other, you can see life-size Santas, snowmen, trees, and many other Christmas displays. To top the lavish decorations themselves, Christmas carols waft from outdoor speakers. If that doesn't get you into the holiday spirit, what does?

As some of the most exuberant New York Christmas Lights, a visit to Dyker Heights is a must during the holiday season. The small neighborhood starts looking like a magical Christmas village beginning the week after Thanksgiving. While you can choose to explore the massive light displays by yourself, we can hook you up with an interactive guided tour that lets you enjoy the highlights and maximize your experience.

This is our guide to Dyker Heights Christmas Lights.

02

Saks Fifth Avenue Light Show

Other Shopping

in

Midtown Manhattan

Saks Fifth Avenue does not only boast festive holiday windows but also an annual theatrical light show. Seeing the holiday light show at Saks has become a tradition for many locals and visitors. The light show is accompanied by music and repeats itself every 10 minutes from 5 pm to 11 pm.

As some of the most spectacular Christmas Lights in NYC, you may imagine that the sidewalks are extremely crowded. Though that is completely true, it's totally worth seeing the spectacle at least once.

Besides the Light Show, Saks also decorated its windows!

You can see the Saks Holiday Windows from November 21, 2023 on. The 3 minutes and 23 seconds long light show can be seen daily every 10 minutes from 5:00 pm to midnight.

When?

From November 21, 2023 on

 

03

Rockefeller Center Christmas Tree

Christmas Tree

in

Midtown Manhattan

Of course, the iconic Rockefeller Plaza is home to one of the most beautiful Christmas decorations in NYC. It is a holiday beacon and the epicenter of New York's holiday season. Crowds flock here like nowhere else in the city to see the impressive tree in person. Thousands of light bulbs drape the tree that is crowned by a new dazzling diamond Swarovski star every year. Apart from the tree itself, there are angels and adorned foliage sweetening the sight of the famous display.

A special time to see the Rockefeller Center Christmas Tree is during its lighting ceremony. It always takes place the Wednesday after Thanksgiving. This year, it falls on Wednesday, Nov 29th 2023 and marks the 89th ceremony in its history. The Christmas tree lighting ceremony is free to attend. To actually get a peek of the tree being lit at 8 pm, however, you need to be here many hours in advance.

When? November 29th – through January 2024

04

Radio City Music Hall

Other Art & Culture

in

Midtown Manhattan

Radio City Music Hall is a famous New York concert venue, in part due to its world-famous Radio City Christmas Spectacular starring the Rockettes. When you arrive, you will be overawed by the jolly exterior decorated with a Christmas tree for the holiday season. Across the street from it, giant tree ornaments provide the perfect holiday photo op for your next Christmas card. They are worth seeing during both the day and evening, as they are also illuminated once the sun sets.

While visiting to see some of the best Christmas decorations in NYC do not miss the Radio City Spectacular. The Christmas show is obligatory if you are in New York during the holiday season.

05

Shine Bright Only at Hudson Yards

Other Events

in

Hudson Yards

Starting at the end of November, you can enjoy a spectacular light show at Hudson Yards titled "Shine On". It's one of the newest Christmas light displays in New York City. Shine On is an indoor-outdoor light and music installation. Every day at 5 pm, "the moments" invite spectators to get dazzled by a visual spectacle that is synchronized to festive music.

When?

starting November 13, 2023

06

Macy's Give Love

Other Attraction

in

Garment District

Macy's has a lot to offer at Christmas time: besides the wonderful Holiday Windows, the entire facade is decorated with many lights. Inside it is also decorated for Christmas and on the 8th floor you will find the famous Santaland!

Holiday Windows

07

Cartier Holiday Decorations

Shop

in

Midtown Manhattan

Have you ever seen a building wrapped in a giant Christmas bow? Cartier's Fifth Avenue Manhattan store goes further than just decorating the windows. The entire building, which is a gilded age mansion built for Morgan Freeman Plant, son of Henry B. Plant, the railroad tycoon, is wrapped in a Cartier signature red bow. The shiny red ribbon stretches across the building from Fifth Avenue to 52nd Street, with festive garland outlining every ground-floor window. 

The building is decorated now and will remain that way until Christmas. You can find it at 651-653 Fifth Avenue and 4 East 52nd Street not far from Rockefeller Center with the most famous Christmas tree in New York.

08

Bergdorf Goodman

Other Shopping

in

Midtown Manhattan

Bergdorf Goodman is a luxury department store on 5th Avenue and has been selling upscale women's fashion and accessories since 1929. The product range now also includes exclusive interior design items, bridal fashions, shoes, jewelry, children's clothing and cosmetics in the upper price segment.

09

The Peninsula Hotel

Hotels & Accommodations

in

Midtown Manhattan

5 stars | The Peninsula Hotel should be included in every list of hotels in New York with the best views of Manhattan. It is located in the center of Manhattan and the skyline seems close enough for you to reach out and touch it. Its location on 55th Street and 5th Avenue means that you can feel the energy of the midst of the city from its terrace. While the views are impressive during the day, they hit a whole 'nother level as soon as darkness falls. From here you can watch the yellow taxis stream through midtown in the rhythm of the traffic lights and the tiny-looking people hurrying amongst them from above. You can also enjoy this incredible view from your bed  in the spa area thanks to the floor-to-ceiling windows. The Peninsulas small rooftop bar – The Salon de Ning – is also a great spot to spend your night!

10

Enjoy the Christmas Decorations at Bloomingdale's

Other Shopping

in

Midtown Manhattan

Bloomingdale's is an institution in New York. The brown shopping bags that you are sure to feel like you've come across a hundred times in New York are very well known. There is a reason for this: the selection is huge and really valuable!

Bloomingdale's is festively decorated just in time for the Holiday Season. For us, the store is one of the most beautiful in New York!

When? The exact dates are not yet fixed – I have asked them and am waiting for the answer.

11

Rolf's Restaurant

Other Restaurants

in

Gramercy

Rolf's German Restaurant in Gramercy Park draws thousands of visitors and locals to its location. Why? It features some of the most over-the-top holiday decorations starting in November. It is not a typical location to see New York Christmas Lights, yet it made it on our list. You won't find another restaurant with over-the-top holiday decorations like this one. The restaurant is transformed into a veritable fairytale, made up of thousands of ornaments hanging from the ceiling. The elaborate decorations alone make dining here worth it.

Christmas Trees in New York

12

Wall Street Christmas Tree

Christmas Tree

in

Financial District

The Christmas tree on Wall Street looks back on a long tradition: this year it can be seen for the 100th time. Not only is the tree itself festively decorated – the building of the New York Stock Exchange also looks beautiful, as it is illuminated from the outside in Christmas colors.

The 100th Annual Tree Lighting will take place on November 29, 2023 from 2 pm – 6 pm.

13

FOX News Christmas Tree

Christmas Tree

in

Midtown Manhattan

Positioned in front of FOX News Channel's Manhattan headquarters on Avenue of the Americas, the FOX News Christmas tree is a beacon of holiday cheer in the heart of the city. The annual tree lighting ceremony is an event to behold, drawing in onlookers from near and far. The tree itself stands tall, decorated with brilliant ornaments that mirror the vibrancy of Midtown. This spectacle adds a special touch to the holiday season, making it a must-visit destination on your holiday itinerary. It is located on 6th Avenue between 47th and 48th Street.

14

Bryant Park Christmas Tree

Christmas Tree

in

Midtown Manhattan

The Bryant Park Christmas tree is part of the larger Winter Village, which is filled with tiny, charming shops selling everything from handmade jewelry to artisanal foods. Skaters twirl on the ice rink below, making the atmosphere joyfully festive. The park is centrally located and easy to reach, making it a must-see destination.

When?

The Christmas Tree Lightning Show will take place on November 28, 2023, at 6 p.m.

Light Festivals & Light Shows

Superlative Christmas Lights can be experienced for the first time this year at Citi Field (the New York Mets' stadium) in  Flushing Meadows-Corona Park, as the Amaze Light Festival. It is the largest festival of lights in the country and offers you booths with festive food and a light show in addition to the incredibly impressive Christmas lights. The Amaze Light Festival takes place outdoors and with the amazing stadium as a backdrop, it becomes even more unique.

You can stroll through a total of five themed worlds with millions of twinkling lights, 3D light decorations and a Christmas market. There will even be a small forest with lanterns and frost-covered trees. Every 30 minutes there will be an animation of the trees, which will then dance to Christmas music. Especially for children, this will be a real highlight at Christmas time.

In total, over 400,000 Christmas enthusiasts are expected to attend the Amaze Light Festival. Tickets for the event will be available from October 3 via the official website.

16

Lightscape at Brooklyn Botanic Garden

Other Events

in

Park Slope

The Brooklyn Botanic Garden couldn't be left off my list of the best Christmas Lights in NYC with its impressive lightscape show.

When? November 17, 2023 – January 1, 2024

17

Holidays Under The Stars at Time Warner Center

Other Attraction

in

Hell's Kitchen

The Shops at Columbus Circle boast the largest specialty crafted display of illuminated color in the world! Twelve 14-foot handcrafted stars will be hanging from the ceiling inside the Time Warner Center. If you show up in the evening hours, know that there is a dazzling light show every half hour from 5 pm till closing. Access to the spectacle is free! The specialty exhibit "Holidays Under the Stars" is a true New York tradition and comes with extended shopping hours. Dine, shop and enjoy the entertainment after you visited Columbus Circle Holiday Market, one of the best Christmas markets in the city.

STOP BY ON A MONDAY!

To pair some of the best Christmas lights in NYC with an even more magical experience, come here on a Monday. That's when Broadway Under the Stars takes place inside the Shops at Columbus Circle. Who doesn't like a free light show and Broadway  performance?

When? The exact dates are not yet fixed – I have asked them and am waiting for the answer.

On the list of the best Christmas lights in New York, the Bronx Zoo is definitely not to be missed! It is one of the newest Holiday Lights in the city and looks really beautiful. You can see over 260 different light display, tree lightings, animal lanterns and animated sculptures.

The animals and plants are mad of huge lanterns made with great attention to detail. This year, the collection has grown even more, with 30 new species added. From elephants to frogs, butterflies, polar bears, corals, lions and much more you can experience at the Bronx Zoo.

When? November 17, 2023 – January 7, 2024

Photo: Julie Larsen Maher

19

Holiday Lights Show at New York Botanical Garden

Other Attraction

in

Bronx

NYBG GLOW is a light installation at the New York Botanical Garden during the Christmas season in NYC. On selected evenings you can admire this outdoor exhibition on a 1.5 mile long path. This is the 3rd time this event has been held, now with even more stunning colors and displays.

My tip: Combine your visit with the Holiday Train Show!

Tickets are available here.

When?

November 2023: 17, 24 & 25 | 5-10 pm
December 2023: 2, 8 & 9, 15 & 16, 22 & 23, 26-30 | 5-10 pm
January 2024: 6 & 13 | 5-10 pm

20

Luminaries at Brookfield Place's Winter Garden

Other Attraction

in

Battery Park City

This beautiful holiday light installation was designed by LAB at Rockwell. Glowing lanterns that change colors and intensity will light the room inside the winter garden at Brookfield Place. If you stay here long enough, you may even catch a winter-themed show that is displayed every 30 minutes. They are one of my favorite New York Christmas lights, complemented by the alluring ambiance of Brookfield Place.

Brookfield Place is also a great destination to do some holiday shopping and connects to the Westfield shopping center inside the Oculus. When you've finished all your seasonal gift purchases, it's great to sit down on the stairs inside the Winter Garden and enjoy the show.

When? November 24, 2023 – January 6, 2024

21

Central Park Holiday Lighting

Other Events

in

Harlem & Washington Heights

The Annual Central Park Holiday Lighting is always held in December near the Harlem Meer in Central Park and draws several hundred New Yorkers each year. It is a free event, a choir sings and there are a few Christmas booths with delicious food and drinks.

When?

November 30, 2023 – 5.30 pm

22

Santa's Corner by Kevin Lynch

Other Attraction

in

Flushing

The most spectacular Christmas lights in New York are not only in Manhattan, Brooklyn, and Staten Island. Queens should also be on your radar if you are on the hunt for a magical Christmas light experience. Here, you will find an alternative to the Dyker Heights Christmas Lights in Brooklyn.

Whitestone homeowner Kevin Lynch drapes his house in thousands of twinkling lights once again. What can you see here? Nutcrackers, Santas, snowmen: you name it! Can you believe that it takes him about three months to set up the decorations? Santa's Corner, along with all the other beautiful Christmas lights in NYC, truly fosters the holiday spirit. For some of you, the name may ring a bell. That's for good reason: Lynch was featured on ABC's "The Great Christmas Light Fight" where he won the competition.

Where? the intersection of 166th Street and 23rd Avenue

23

LuminoCity Festival

Other Attraction

in

Outside of New York City

This holiday light festival is coming to New York for the second time this year. You can expect an immersive wonderland set up in Whitney Pond Park in Manhasset from November 9, 2023 through January 7, 2024. The nine-week-long holiday event covers 12 acres and is called The Winter Fantasy. It features a frozen world, consisting of various light installations.

To make your experience even more enjoyable, live performances and a holiday market offering lots of food and crafts will be present in the park as well. What better way to enjoy New York Christmas lights than with some delicious snacks?

When?

November 9, 2023 – January 7, 2024

24

Winter Lantern Festival at Queens County Farm Museum

The Winter Lantern Festival is back for its fourth year, promising an enchanting experience in Queens, NY. Immerse yourself in a mesmerizing world of light with over 1,000 Chinese lanterns, crafted by skilled artisans with decades of experience.

From interactive features like the Bounce House and Sugar Paintings to captivating light swings, see-saws, and artisan lantern creatures, this festival offers an unforgettable outdoor adventure. Join over 150,000 annual visitors who have made this a cherished tradition and celebrate the beauty of Chinese lantern craftsmanship at the Winter Lantern Festival in Queens. Don't miss this opportunity to explore the magic of illuminated artistry and culture!

When?

November 17, 2023 – January 7, 2024
---
Our Video about the famous Dyker Heights Christmas Lights Tour👇
[adthrive-in-post-video-player video-id="QAYEq45j" upload-date="2021-11-14T09:32:23.000Z" name="VIDEO: The Dyker Heights Christmas Lights Tour " description="" player-type="default" override-embed="default"]
---
FAQ
When do Christmas lights go up in New York?
Thanksgiving officially kicks off the holiday season in New York. From this point on, the first Christmas lights can be seen in New York City, the shop windows are decorated and the Christmas markets are open! You will see Christmas lights all over the city.
About the author
I'm a true New York fan! Not only have I visited the city over 25 times but also have I spent several months here at a time. On my blog I show you the best and most beautiful spots of the city, so that you have a really good time! You can also find lots of insider tips in our New York travel guide. Also check out my hotel finder for New York!
Did you like this article?