Pier 17 in NYC
New York's New Spectacular Waterfront Venue
Steffen
8. September 2021
·
Add this and other places to your personal travel plan. We will then help you with further suitable suggestions: free of charge and straightaway!
A new performance venue has just opened on top of Pier 17 in NYC near South Street Seaport in Lower Manhattan. The Seaport District, including Pier 17, was heavily damaged during Hurricane Sandy in 2012. Now, the area has been rebuilt and transformed completely.
You'll also love this:
In our Pier 17 Guide we show you everything you need to know for your next visit!
Pier 17 in New York is Reborn!
After the devastation during Hurricane Sandy, many of the historic cobblestone buildings at the South Street Seaport had to be restored. The entire area now shines in new splendor, but the probably most spectacular addition to the new Seaport District is the new Pier 17 in New York. The flexible space contains a great variety of eateries and several spaces to rent, including a Pier 17 rooftop performance venue at five stories high. The official Pier 17 NYC opening took place in June 2018 with its lineup including Amy Schumer, Kings of Leon, Trevor Noah, Bebe Rexha, deadmau5, and other well-known performers.
---
The Pier 17 NYC Rooftop
On the rooftop, at Pier 17 you can enjoy cocktails and other drinks with unobstructed, panoramic views, while also grabbing a fresh bite from the adjacent Market Hall listening to some live music. What you can see from the Pier 17 rooftop? Quite a bit! On one side can see as far as Governors Island and the Statue of Liberty. On another side, you can see the World Trade Center and in fact, even the Empire State Building. The best view from the rooftop at Pier 17, in our opinion, is undoubtedly the picture-perfect East River backdrop showing the Manhattan and Brooklyn Bridge. Especially at night, the view of the twinkling lights and their reflections in the water are more than breathtaking. The Pier 17 rooftop is spacious and offers cozy seating, including couches and rocking chairs, some of which are facing the waterfront.
Pier 17 rooftop is the place to be in the summer!
What makes Pier 17 even more special this year is that it will probably offer you the best views of the 4th of July fireworks! For the first time in many years, they are returning to the Brooklyn Bridge. Pier 17 offers some of the best views of the bridge making it the perfect location to spend the 4th of July in New York. All public viewing events will be announced in June, so stay tuned!
The 50 Absolute Best Things to Do in New York (90+ pages)
We've chosen the 50 best spots, events and activities to showcase the full diversity of New York City. Even after more than 20 visits, the city never gets boring for us. And with our recommendations, you'll have a really good time in New York, too, and you'll have plenty left for your next visit. If you're not planning a trip yet, you're sure to get wanderlust after perusing this list!
Pier 17 Concerts & More
Apart from the outdoor entertainment offer, Pier 17 NYC hosts a variety of events you can attend. Those events range from free fitness classes over fresh farmers' markets all the way to fun festivals.
You can visit the Fulton Stall Market, for example, from September all through December 13th, or attend a fitness from July through October. All classes are 100% free, but spaces are limited! Lastly, there is an annual fall food festival named  "Taste of the Seaport" which is taking place at the end of October. If you're as excited to find out about other great events on Pier 17 in the future as we are, then take a look at all Pier 17 events below!
---
What about Pier 17 during the winter?
If you are in the city there during the winter, don't worry! During the winter months (this year starting on November 22nd), there will be an ice skating rink and a winter market on the roof of Pier 17. The ice skating rink on Pier 17 comes close to the size of the Rockefeller Center skating rink. Officially, the ice rink at Pier 17 is called "Winterland". This is what you can expect: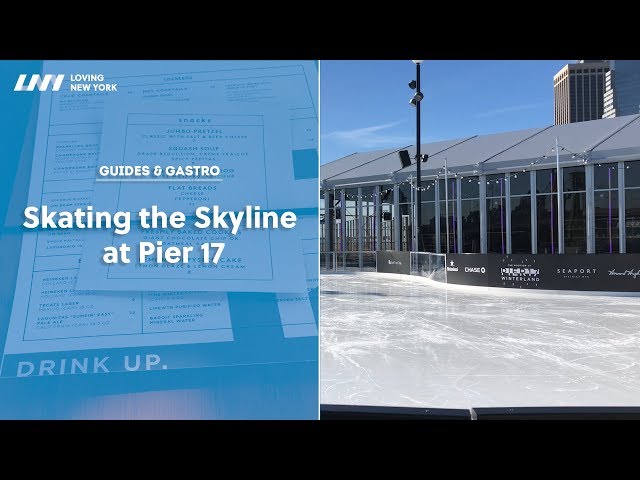 How do you get to Pier 17?
Pier 17 is located at 89 South Street, a stone's throw from South Street Seaport in Lower Manhattan. It is also walking distance to major tourist attractions, such as Wall St and Ground Zero with the 9/11 Memorial and Museum as well as One World Trade Center. The easiest way to get to Pier 17 is by Subway. Simply ride lines A C J Z 2 3 4 or 5 to Fulton Street, or, alternatively, hop on train E and get off at Chambers Street-World Trade Center. From there it'll be just a short walk.
Things to do near Pier 17 NYC
If you are planning to visit Pier 17 in the Seaport District, you can easily combine your visit with the Financial District and Ground Zero. As you will be at the waterfront already, you surely have plenty of cruises departing from the area, too. Hornblower Cruises is located right on Pier 15 and Circle Line Sightseeing can be found on Pier 16. The Downtown Liberty Express Cruise is free with a New York Pass! 
Great Hotels near Pier 17
One of our favorite hotels near Pier 17 is the Andaz Wall St. It is located conveniently close to the South Street Seaport in a great area. Generally speaking, Lower Manhattan is the perfect place to stay as you have many attractions around you while at the same time avoiding the rush of Midtown. Another great hotel near Pier 17 we dearly recommend is Aloft Downtown, located right at beautiful One World Trade Center.
About the author
Steffen
I'm a true New York fan! Not only have I visited the city over 20 times but also have I spent several months here at a time. On my blog I show you the best and most beautiful spots of the city, so that you have a really good time! You can also find lots of insider tips in our New York travel guide. Also check out my hotel finder for New York!
Did you like this article?