Our Favorite Things To Do in New York in June
The Top 25 June Highlights, Events and Activities
New York City is one of the places you can always find something to do, whether it's snowing outside, the sun is shining, or you are stuck in the midst of a spring shower – the Big Apple always has something to offer. Below, you can find all of our favorite things to do in New York in June.
New York in June is a charming month. The summer temperatures are rolling in, the parks are filled with people, outdoor activities are in full effect and the city colors come alive. In the evening, many restaurants and rooftop bars welcome you to sit outside. June also offers some exciting events and attractions. See below for some of New York's most popular events in June!
The 12 Best Things To Do in New York City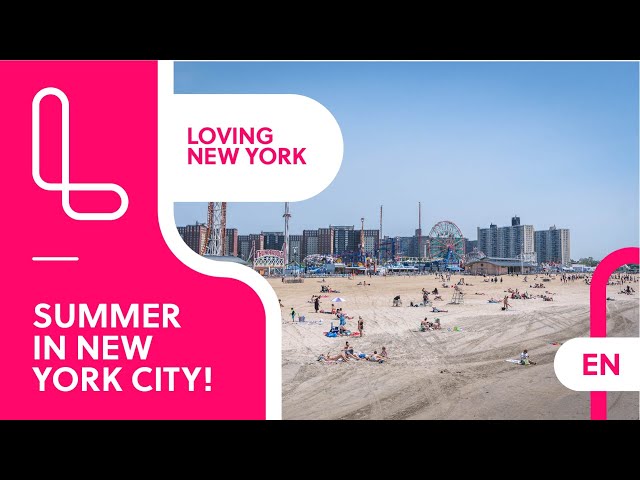 The Weather in New York in June
1. June 1-3: The Scooper Bowl Ice Cream Festival at Bryant Park
Hot weather means, cold food. And what cold food is better than ice cream? At Bryant Park, you can eat as much ice cream as you want in the first three days of the month! For $20, an all-you-can-eat ice cream extravaganza takes place. Here, famous New York-based ice cream shops such as Baskin-Robbins, Ben & Jerry's, Big Gay Ice Cream, Waffle & Dinges and the Brooklyn Ice Cream Factory. Now that's some big-time names all in one park. Something like this only exists in New York! More information can be found here.
2. June 3: Taste of Times Square
The month begins with a very special New York event in Times Square. Over 52 restaurants share their best foods from around the globe at the Taste of Times Square Food and Music Festival. With great live music and many other surprises, Broadway is filled up and stretches all the way West to 10th avenue. For a full list of participating restaurants and information, click here.
3. June 9: National Puerto Rican Day Parade (free)
One of the most popular Summer NYC events is The National Puerto Rican Day Parade. It will take place at 11:00 AM on 5th Ave. from 44th to 79th Street. For 38 years, the Puerto Rican community have been showing their national pride here and are also promoting their personal contribution as a unit within the United States.
There will be a lot of dancing and celebrating everywhere. Even if you're watching the parade, the event will surely have you dancing as well. It's really worth seeing the parade and is definitely a summer highlight.
4. June 11: Museum Mile Festival
In June 2019, the annual Museum Mile Festival offers its visitors free entry to the most famous and popular museums in New York City during a prolonged opening time from 6:00 pm until 9:00 pm. Between 82nd and 105th street on Fifth Avenue, Museum Mile is home to participating museums of the festival: El Museo del Barrio, the Solomon R. Guggenheim Museum, the Metropolitan Museum of Art, The Cooper-Hewitt, The Jewish Museum, The National Academy Museum, The New Gallery, The Museum of the City of New York and the Africa Center. This is one of the best summer events in New York in June. From the music to the activities happening on the streets, Museum Mile welcomes everyone! For more information, click here.
5. End of June (Dates TBA): Full Moon Festival
For the last 6 years, the Full Moon Festival has been one of the more popular summer events in New York. This year it will be held on Governors Island! Dance to pop, hip hop and EDM music that features over a dozen emerging artists on the island, all weekend long. Detailed information about the festival can be found here.
6. Philharmonic in the Park (free)
The New York Philharmonic performs "Tchaikovsky", "Gershwin" and much more at the dream location in Central Park in Manhattan in June. Celebrating its 50th anniversary this year, this event is a great way to see the famous New York Philharmonic live and free. Usually, thousands of New Yorkers enjoy the event laying on blankets and having a candlelit picnic. The dates will be announced once they become available.
7. June 22: Coney Island Mermaid Parade
The Coney Island Mermaid Parade is one of the craziest events in New York City and will take place on June 22, 2019. Every year, thousands of costumed people make their way to the surf avenue on Coney Island. Pirates, cuttlefish, sailors, mermaids with mussel shirts and bras mixed with music and many festivals seems like a mixture of Christopher Street Day and Cologne Carnival. All together they celebrate the beginning of the summer – a great idea for all who love the carnival. Afterward, you can also relax at the nearby Brighton Beach and enjoy the sun.
8. June 16: Father's Day in New York
Father's Day is also celebrated in June! If your dad is up for a day in the city, fortunately, New York in June is a great place to be! Here are some of our recommendations: The Best Restaurants NYC, The Best Helicopter Rides, & tickets for sporting events.
9. June 1-2: Check Out The Washington Square Outdoor Art Exhibit
If you're in the Washington Square area on June 1st or 2nd, make sure to check out the Outdoor Art Exhibit. Here, all of the small streets and sidewalks will turn into an art exhibit. Click here for more information.
10. June-August On Mondays: HBO Bryant Park Film Festival (free)
In June, you are able to enjoy the outdoor, open-air cinema in Bryant Park behind the Public Library. In the middle of Manhattan during the summer months, you will find the park's green space with numerous amounts of people laying on blankets and relaxing on lawn chairs. Make sure to bring your own snacks and drinks to enjoy!  The park is just a 5-minute walk from Times Square and is surrounded by tall trees which makes it feel a bit more isolated. It's perfect for a movie.
At around 5 PM You should start securing your spot on the lawn. The films start around 8 PM or 9 PM. Pretty much whenever the sun goes down. For more information, click here. 2019 dates coming soon!
11. June 30, Gay Pride Sunday & Christopher Street Parade 
The New York Gay Pride Week is the oldest in the world. The beautiful Greenwich Village invites thousands of people each year to Gay Pride. Christopher Street is especially colorful and you will notice that the well-known rainbow flags, which is a symbol of the LGBQT community, everywhere. Even the global company Google adorns its exterior with the flag in support of the community. Gay Pride Week recalls the first homosexual homicide by the police in 1969.
The parade has become a tradition, with an average of 500,000 visitors per year. It makes it one of the biggest parades in New York City and will most likely be one of the top events in New York in June 2019. It moves through 5th Avenue (Madison Square Garden) to Greenwich Street. The parade ends at Pier 54 and is met with an exuberant party.
12. Visit Governors Island
Every year, Governors Island hosts many unique events. We have put together the most popular for you in a separate article. In June, there are a lot of great highlights!
13. June – October: CityParks Summer Stage in NYC
CityParks Summer Stage in NYC will be in full effect again this summer. The event series runs from June to October and takes place in Central Park with other various locations throughout the months. Please find more information about the events here. 
CityParks SummerStage is New York City's largest, free outdoor performing arts festival, taking place in Central Park and in 15-18 neighborhood parks around the city. SummerStage hosts up to 100 different performances throughout the city and the majority is free of charge.
In 2019 in particular, the flagship venue located at Central Park will have a new stage. This includes a new sound system and better lighting. They also upgraded the backstage areas, raised seating for the crowds to make sure it's a concert-going experience for all guests.
Music festivals will be present throughout the summer in New York. If you're not here in June, here are some other options.
14. Every Friday once a month: Free Admission at The Intrepid Sea, Air & Space Museum
One Friday per month, The Intrepid Sea, Air and Space Museum will open its doors to the public for free. For more information on these special nights, please click the link here.
15. Take one of the Best Tours or Attractions in New York City
When visiting a new city, we try to find some of the most popular tours and attractions. The tours give a point of reference. It shows what people liked or disliked. If many people book these tours, it definitely makes sense to look at it, right?
If you want the most bang for your buck with attractions and tours for June, then we recommend getting the CityPASS, Explorer Pass, and New York Pass sightseeing passes. These passes will give you access to some of the popular outdoor activities such as boat tours and the popular hop-on-hop-off bus tours. Click on the tour or attraction to get more details below.
Here are some popular tours and attractions:
| | | | | | | | |
| --- | --- | --- | --- | --- | --- | --- | --- |
| | | | | | | | |
| | | | | | | | |
| Save 50% on all attraction tickets with this discount pass for NYC! | Our favorite dinner cruise, perfectly suited for warm summer evenings! | Seeing the marvelous waterfall in just one day - it's possible and also worth it! | One of the most popular tours in New York during which you discover many locations from the TV series. | Watching the fireworks from a cruise is an unforgettable experience. | The easy way to get from the airport to your accommodation. | New York's most iconic skyscraper. The views never get old! | Guided 1-day trip from New York to Boston, including the famous Freedom Trail |
| | | | | | | | |
16. Good Morning America Concerts every Friday
The New York GMA Breakfast TV, also known as Good Morning America, hosts a free concert with major artists every Friday at 7:00 AM. All the action will be televised live on TV. If you want to be there, click here for more information.
17. Circle Line: Beast Speedboat Ride
June in New York can get really hot, so what's the best way to enjoy the intense heat in New York? Experience this 30-minute speedboat tour of NYC. Catch the waves at high speeds and awesome music while you view the Manhattan skyline.
18. Enjoy the Sun at the Grand Banks
What could be better than sitting in the sun, drinking a glass of wine, listening to relaxing music and looking at the skyline of New York? You can enjoy just that at two different spots. The "Grand Banks" is a two-master ship at Chelsea Piers where you can get a view of the Hudson River, The Statue of Liberty and the One World Trade Center.
In addition, there is also an offshoot of The Grand Banks in Brooklyn. Located at Pier 6 of the Brooklyn Bridge Park, the "sister-ship" is docked here. You will immediately recognize similarities. Both ships are tall, has a wonderful atmosphere and has a similar menu as well.
19. NYC One World Observatory Skip-the-Line Ticket
If you want to go to the top of the One World Observatory, chances are you'll probably be waiting for a good amount of time. This ticket will give you VIP access to the VIP line and elevator making your waiting times shorter.
20. Spend a Day at the Beach
Escape the hustle and bustle of city life and spend a relaxing day on Brighton Beach in Coney Island. If you don't want to be in Coney Island, you can also check out some of our favorite beaches in New York here.
21. June 21: The Make Music Festival
On June 21st, which is officially summer in New York, from 10 AM until 10 PM, the Make Music Festival celebrates the diversity of New York and its different cultures on the longest day of the year. From hip-hop, jazz to rock, everything is played and over 1000+ concerts are held throughout the city which makes it a great experience. More information is available here.
22. Watch a baseball game in New York
Baseball is part of summer in New York. Whether it's a game of the New York Yankees or the Mets, both baseball teams are definitely worth it. Just think about a cold beer at either Yankee Stadium or Citi Field in beautiful weather. It doesn't get more New York than that.
23. NYRR Mini 10K – Women Only
In June, the largest women's 10-kilometer run takes place in New York City. The world's elite comes here to run the 6.2 miles through Central Park. Among them are of course many amateur runners as well. If you do not want to miss out on this special running event then be sure to drop by the NYRR website and secure your spot.
24. Moulin Rouge on Broadway
The story of the musical takes place in 1899. The Englishman, Christian is a young writer who travels to Montmartre in Paris to write. At the Moulin Rouge, he meets the wonderful cabaret artist Satine. The two fall in love and there's a problem. What is it? Experience it live on Broadway. The best and cheapest tickets are available here.
25. Summer on the Hudson
Throughout the summer, New Yorkers await a great event series called "Summer on the Hudson" on the Hudson River. The adjoining piers offer a wide variety of events with concerts, karaoke, food festivals and attractions for the little ones. Incidentally, the events last into October. Here is more information.
About the author
Selwyn Tungol
Being a photographer and creative in general, New York City, I think is the perfect place to be. I moved to NYC from Boston in 2013 and never looked back. Loving New York has given me the opportunity to do what I love and share those images with you all.
Did you like this article?