FAO Schwarz NYC
·
Add this and other places to your personal travel plan. We will then help you with further suitable suggestions: free of charge and straightaway!
What is New York without FAO Schwarz? It's the most popular toy shop in New York and it simply belongs to the city just like the yellow taxis and the Empire State Building. The media hype was huge when FAO Schwarz NYC closed in 2015. But ever since of November 2018 they came back with a new location.
For More Shopping in New York:
Video of FAO Schwarz in NYC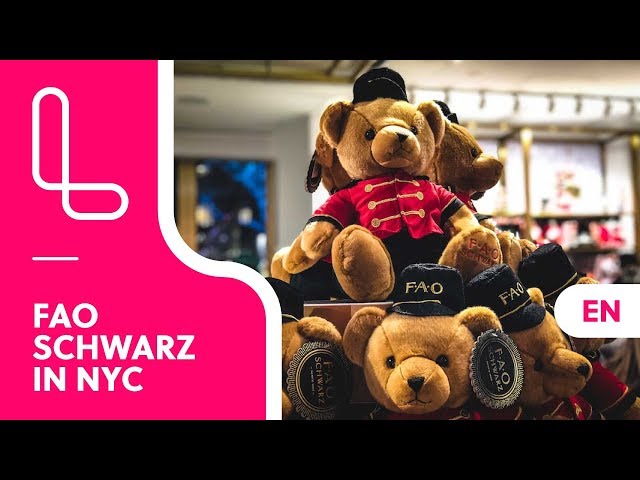 With the location of the new FAO Schwarz toy store right on Rockefeller Center, it can definitely compete with its former location on Fifth Avenue. This makes shopping in New York even better with FAO Schwarz comeback. It has been making children's hearts beat fast for over 150 years. They have a large selection of teddy bears, barbies, books, and international toys. The reopening of FAO Schwarz was eagerly awaited by all. As a matter of fact, New Yorkers were appalled when FAO Schwarz closed down in 2015, right before the holidays.
The New FAO Schwarz NYC
Expectations were high in regards to the reopening of FAO Schwarz. Everything is obviously newer, more timely and modern. The location, which is just a few steps from the famous Christmas tree at Rockefeller Center, and Top of the Rock is perfect. The famous clock in the staircase is now digital.
Also, you can play "The Big Piano" on the floor (famous from the movie "Big"). There's many new features as well as classic ones. If you want to see the FAO Schwarz NYC's toy shop in Manhattan and do not want to be pushed through the store like sardines, come early in the morning. For children, this place is, of course, unique and should definitely be on the list.
For More Shopping in New York:
About the author
Selwyn
Being a photographer and creative in general, New York City, I think is the perfect place to be. I moved to NYC from Boston in 2013 and never looked back. Loving New York has given me the opportunity to do what I love and share those images with you all.
Did you like this article?