Dyker Heights Christmas Tour
Why you shouldn't miss the Dyker Heights during Christmas Time in NYC
·
Holidays in New York is a very special time. The city sparkles and glitters on every corner because of decorations. You'll see colorfully decorated Christmas trees, shop windows and hear holiday music everywhere. Each neighborhood decorates its block differently. One of the most visited neighborhoods during this time is Dyker Heights.
You may also like
Contents
This tour is one of the best to check out during Christmas in New York. We recommend taking the Dyker Heights Christmas Tour which will bring you around this popular neighborhood.
The Famous Dyker Heights Christmas Tour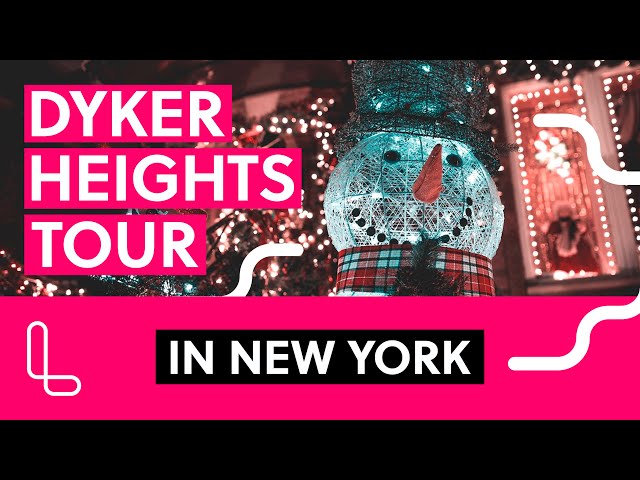 The Dyker Heights Tour is considered one of the best tours during the holidays and promises the typical New York Christmas spirit from the local's point of view. On the 3.5 hour tour, that happens 3 times a day in Manhattan at The Row Hotel, you'll take a shuttle to Brooklyn into the popular Dyker Heights.
Where is the Dyker Heights Christmas Lights?
The Dyker Heights Christmas lights are located in Brooklyn. Here, countless homes are beautifully decorated with lights and props. The whole neighborhood is pretty much lit up which becomes a sight to see. There is no limit to creativity. Often there are even small competitions in the neighborhood such as whose house is the best decorated.
After a walking tour through Dyker Heights in Brooklyn, the tour guide will take the group back to Manhattan on Fifth Avenue. Here you will be shown the most beautiful shop windows with Holiday decorations. A stop will also be made at the famous Christmas tree at Rockefeller Center. This tour is only bookable during the holiday season. So, if you're all about the holidays, this tour is a must.
Secure Your Tickets Now
Your best bet is to directly purchase the tickets in advance online. This tour is very popular and sells out fast. So, grab your tickets, admire the area around Dyker Heights in Brooklyn and enjoy the holiday spirit to the fullest.
More Dyker Heights Tours
Rating

Transport

Guide

St. Patrick's Cathedral
Rockfeller Center
Radio City Music Hall
Bryant Park Winter Village
Fifth Avenue
Macy's

four NYC holiday markets
holiday windows

$60
About the author
Sabrina
Calling New York City home is still pretty surreal. After moving here 5 years ago, I still see it as my dream life. Ever since I've been exploring this amazing city for Loving New York I've grown to love it even more. I love hooking all of you up with the inside scoop, top attractions, events and everything in between. I'm your go-to person for the hidden gems, best restaurants and the absolute best things to do in the city that never sleeps.
Did you like this article?