Cocktail Bar Double Chicken Please
Steffen
18. November 2022
·
·
Our Highlight
Add this and other places to your personal travel plan. We will then help you with further suitable suggestions: free of charge and straightaway!
The Double Chicken Please is a cocktail bar & restaurant in the Lower East Side and definitely worth a visit. The cocktails are incredibly tasty, creative and you'll love the atmosphere too. Their specialty is cocktails that are inspired by dishes – so there are cocktails like Cold Pizza, Key Lime Pie or Japanese Cold Noodle.
You will also love these:
It's just a few blocks from the famous Katz's Delicatessen and my favorite bar, Fools Gold NYC – you should check those out too if you're on the Lower East Side!
Front Room + Back Room
The location has two areas: the Front Room has regularly changing cocktails on tap ("taptails"), shots and, among other things, their famous chicken sandwich in three variations, including a vegan option.
The interior of the Back Room is very atmospheric and intimate, there is a wide selection of cocktails, but you can also order wines and other drinks. The food menu is the same as the one in the Front Room.
If you are looking for a really good, creative cocktail bar in a great atmosphere, Double Chicken Please is your spot!
Cocktails
Video
The Double Chicken Please spot was made famous by a YouTube video from EATER, which you can watch here.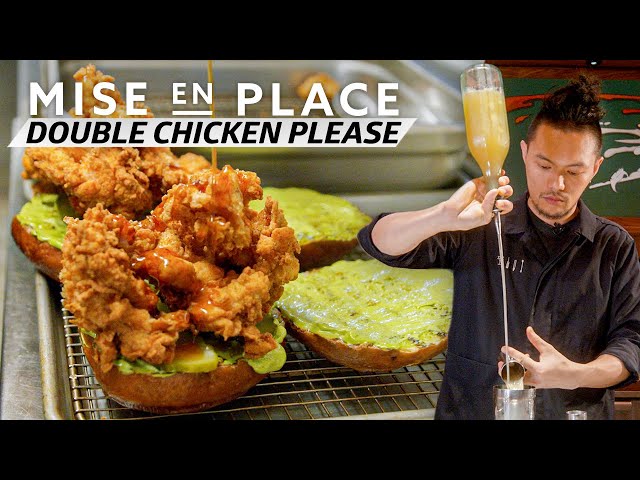 Photo: Emmanuel Rosario
You will also love these:
About the author
I'm a true New York fan! Not only have I visited the city over 20 times but also have I spent several months here at a time. On my blog I show you the best and most beautiful spots of the city, so that you have a really good time! You can also find lots of insider tips in our New York travel guide. Also check out my hotel finder for New York!
Did you like this article?